Special Charity Kenworth T880S Mixer Displayed at WOC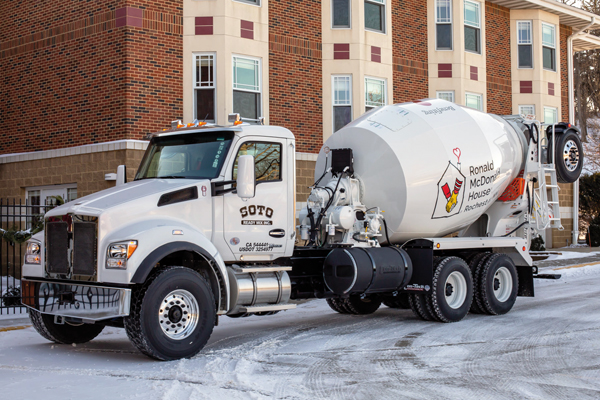 Kenworth Truck Company, Con-Tech® Manufacturing, Inc., and Kenworth of South Florida have teamed up to exhibit a charity Kenworth T880S federal bridge formula mixer at the 2022 World of Concrete, held January 18-20 in Las Vegas. The T880S mixer was displayed in the Con-Tech Manufacturing booth during the show.
Soto Ready Mix, Inc., in Sylmar, California, purchased the special T880S and Con-Tech BridgeKing® mixer and chassis package with a US$250,000 ($316,000) winning bid at a recent live auction. All proceeds of the sale were equally divided to support Con-Tech-designated charities Ronald McDonald House® of Rochester, Minnesota, Make-A-Wish® Foundation of Minnesota, St. Jude Children's Research Hospital, and Wounded Warrior Project®.
"The auction offered a great opportunity to buy an excellent T880S mixer and see the purchase price dollars go directly to help children and veterans in a significant way through the special organizations chosen by Con-Tech. It's an honor to exhibit this truck at World of Concrete. We look forward to putting this special truck into service," said Gilberto Soto, CEO of Soto Ready Mix, Inc.
"The US$250,000 donation for these exceptional charities resulted from an outstanding industry effort by Kenworth, Con-Tech Manufacturing and Kenworth of South Florida, along with our other valued supplier partners," said Jim Walenzcak, Kenworth assistant general manager for Sales and Marketing.
Other contributing supplier partners for the T880S charity truck are Allison (4500RDS 6-speed automatic transmission), Alcoa (front wheels) and Bridgestone (tires). The T880S is specified with a PACCAR MX-11 engine rated at 430 hp and 1,550 lb ft of torque. The Kenworth T880S with set-forward front axle is the go-to configuration for mixer customers required to comply with federal bridge formulas.
Source: Kenworth Truck Company