Potain Wins Big at 2021 Tower Crane Awards in Paris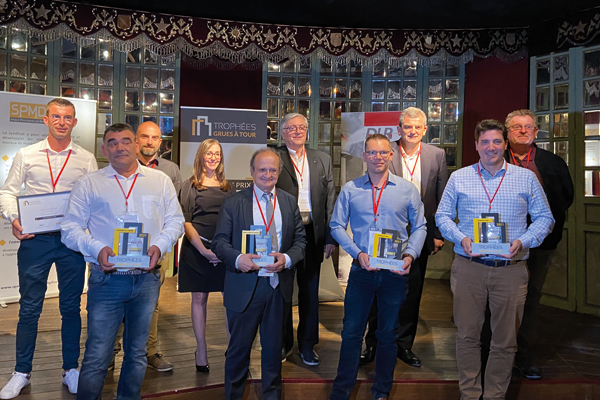 It was a good night for Potain at the recent 3rd edition of the Tower Crane Awards, organized by the Federation of Construction and Handling Equipment (DLR) and the Professional Union of Crane technicians (SPMDG).
The awards ceremony took place at the Museum of Fairground Arts in Paris, France, on September 23, and Potain distributors were recognized in 3 categories – Top-slewing Assembly of the Year, Self-erecting Assembly of the Year and Construction Site of the Year.
The prize for Top-slewing Assembly of the Year went to GLI (Grues Levages Investissements) for the erection of a specially designed Potain MCT 58 on the Sainte-Rose dam in a remote area of La Réunion. Due to the difficult terrain, the crane elements needed to be transported to the site and lifted into place using a commercial helicopter. Potain designed the crane so that each element would not exceed the 1 t maximum capacity of the helicopter. The new MCT 58 crane was initially used to dismantle the old Potain 427 which had been on the site for more than 30 years and will later be used to maintain the dam.
Valente Grue Assistance, meanwhile, came top in the Self-erecting Assembly of the Year category for erecting a GTMR 386B at an altitude of 2,700 m in the Alps. The distributor's main challenge was to climb a ski slope, towing a 28 t load to the top of the resort.
Finally, Uperio took home the award for Construction Site of the Year for the assembly of 16 MR 608 luffing jib cranes with 10 m chassis and travelling mechanisms at the Fecamp offshore wind farm in Normandy. The assembly involved complex international logistics with 250 containers, as well as preassembly of certain components before starting the erection of the cranes. A huge and challenging construction site.
Source: The Manitowoc Company, Inc.