Log Handling Duties Handled by SENNEBOGEN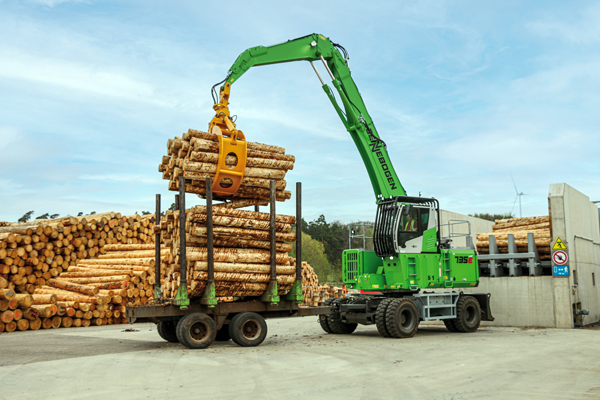 Rettenmeier, one of Germany's largest manufacturers of do it yourself (DIY) wood products began construction of a new sawmill at the Wilburgstetten site in the spring of 2020. Fast forward to today: a new high-performance saw line outputting the 3 grades of DIY wood products and the expansion of the fleet with 4 new SENNEBOGEN timber handlers is also underway. With this investment, the processing capacity of the plant will increase to a further 1.3 million FBM (foot, board measure) per year in the future.
Whether sawn or structural timber, glulam or beams, Rettenmeier's product range is broad and unparalleled. The plant has relied on the long-standing relationship with SENNEBOGEN and their dealer for more than 15 years now.
In addition to the additional saw line, the sorting line will also be supplemented with additional boxes so that log lengths up to 6.2 m can be easily sorted. Log removal and stacking is handled by 2 SENNEBOGEN 730 E log handlers, while 2 SENNEBOGEN 735 E Pick & Carry machines are used for unloading the trucks and feeding the saw line.
With the help of a log grapple up to 30 t of logs can be loaded and transported onto a trailer and brought to the new saw line. Particularly helpful here is that the SENNEBOGEN 735 E has a low rear ballast resulting in a tight turning radius and the automatic steering and driving direction changeover proves to be a valuable helper. In between the narrow wood stacks, it is possible to drive easily and in a space-saving manner without time-consuming maneuvering, even with a trailer. This saves the company valuable time during operation.
Source: SENNEBOGEN, LLC