Demag Crane at Work on an Offshore Wind Farm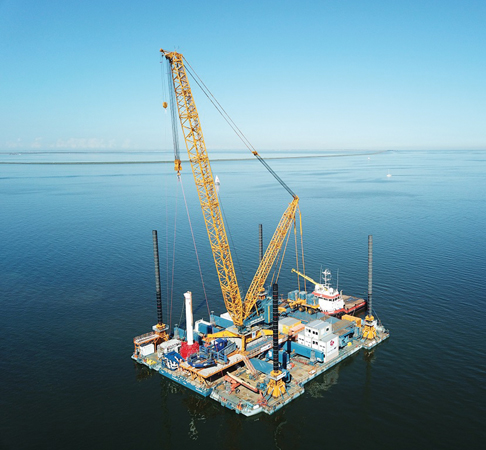 Crane service provider Sarens NV used a Demag® PC 6800‑1 pedestal crane in the lifting of 89 steel piles from a barge on The IJsselmeer on behalf of customer Van Oord Offshore Wind, in the Netherlands.
All the lifts were carried out from a barge on open water, and since the IJsselmeer is very shallow, this meant the barge dimensions were 62 x 53 m, to have a small draft.
The Sarens' team decided to use a pedestal crane, as setting it up would be much easier than for a conventional lattice crane. The crane was transported directly from its previous place of use in Hungary to the Dutch coast.
"We first preassembled the crane on the shore and then put together and tested the larger components on the barge. This way, we minimized the potential risks of assembly on the water and at height," explained Mart van Hoorn, Sarens project manager. "It took the 6-person Sarens assembly crew a total of around one and a half weeks to set up the crane, including the application of  a protective coating to prevent saltwater corrosion.
The PC 6800-1 was set up with a SSL/LSL S1 configuration, a 72 m main boom, and a 40.5 m Superlift mast with a radius of 24 m. The superstructure counterweight came in at 250 t, while the Superlift counterweight at a radius of 27 m came in at 360 t that were placed on a Demag counterweight carrier. Finally, a double hook block with 9-part reeving was installed in order to pick up the loads.
The piles, each weighing up to 250 t and measuring up to 40 m, were picked up directly from a transport ship, placed in an upright position with the help of the sheerleg, moved to the intended location, and driven into the IJsselmeer's lakebed.
One challenge consisted of the constant, and sometimes strong, winds.
"We needed new charts for the maximum lifting capacities at angles of inclination of up to 2° from Demag, and new software had to be loaded onto the crane's control system," reported Hendrik Sanders, who works at Sarens.
Source: Tadano Europe Holdings GmbH