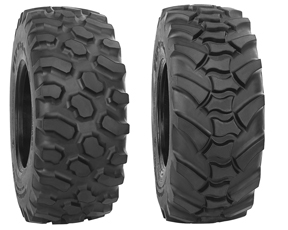 Firestone Launches New Tires
Bridgestone Firestone Off Road Products Division introduced at Conexpo-Con/Agg two new members of the DuraForce family of construction tires which yield improved performance for the R-4 market.
The DuraForce RT is a directional radial tire providing better wear, improved ride and traction.
"The DuraForce RT was specifically engineered with our latest tread design technology to address the demanding requirements for performance and productivity in the R-4 market," said David Ashby, product development manager, Bridgestone Firestone Off Road Products Division. "The DuraForce RT radial has been proven to deliver increased traction, improved ride and longevity over already existing designs." DuraForce RT tires are designed for all types of construction equipment including loader backhoes, telescopic handlers and rough terrain forklifts.
The DuraForce AT-R is a bi-directional radial tire with improved traction.
"In applications where traction is critical in both directions, DuraForce AT-R delivers improved performance and productivity over directional tread designs," added David Ashby. "In some applications, our customers are demanding more reverse traction for improved vehicle productivity and faster cycle times."
The DuraForce AT-R were rigorously tested during development to reduce the amount of tire induced vibration to the vehicle.
In addition to superior bi-directional traction and comfort, the DuraForce AT-R are designed for greater durability.