Astec Inc. Wins National Recognition for Company Web Site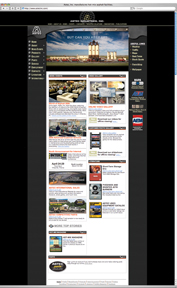 The National Asphalt Pavement Association (NAPA) announced that Astec Inc. of Chattanooga, Tennessee, has been named the winner in the associate member category of NAPA's Outstanding Web Site competition. The company received the award on January 24, 2006, at the association's 51st Annual Convention, "Ride the Pavement," in Hollywood, Florida.
The award recognizes Web site designs that promote the use of hot-mix asphalt (HMA) and the HMA industry.
Astec Inc. has been online since 1998 but updated its Web site, www.astecinc.com, in 2005. The new site provides a wealth of information for visitors, starting with background on the company and the many types of equipment and services it offers. It features useful links for customers (to permitting agencies, weather, traffic, and more), departmental contact names, corporate information for Astec stockholders, and employment opportunities for job seekers.
The company promotes its Web site in its print ads, directing audiences to find more detailed information about its products online.