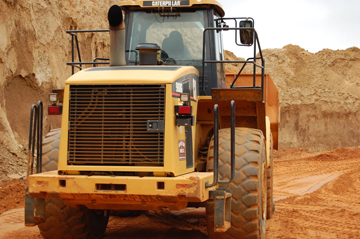 Cure for back-up blues
Memphis Stone and Gravel Company is improving community relations by removing noisy narrowband back-up alarms on its construction and mining vehicles. Dave Barton speaks with company geologist, Alan Parks.
Construction and mining work, in close proximity to established communities, brings its fair share of headaches ­ paperwork, compliance and plant noise. Although the inconvenience of bureaucracy is accepted for the sake of the greater good, factors like noise pollution are not. Development and planning committees are becoming increasingly stringent with such issues.
Suburban development has meant excellent growth for construction and mining companies like Tennessee-based Memphis Stone and Gravel Company. The company ensures it does everything it can to ensure professional conduct and corporate responsibility. One of MS&G's top priorities is reducing noise pollution, and switching its existing reversing alarms to bbs-tek® broadband sound back-up alarms has been a positive step.
Permitting for building and mining work can take from a few months up to several years in Tennessee, but can be much longer in other states. Approval is required at the local, state, and federal level. The initial phase is of crucial importance. This concerns the local authorities and takes into account the length of time a jobsite will last, and estimates potential work's impact upon local communities.
"When it comes to back-up alarms, a lot of people have the impression of blaring sirens ­ the beep, beep, beep stereotype" says Alan Parks, geologist of MS&G. "Installing bbs-tek broadband sound alarms to our growing fleet of mobile construction equipment has improved our dealings with the local community, removing many fears about our continued development and the effects noise may have on nearby residents. By actively addressing our noise pollution issues, the planning process has become more comprehensive."
bbs-tek alarms are made by Brigade Electronics, they emit sound across a broader frequency than traditional reversing alarms. This allows alarm sound to be better detected in the immediate vicinity of danger. In addition, these alarms emit an audible, directional hiss as opposed to a noisy, narrowband siren that can be heard in a wider, but less effective vicinity. The overall result is a locatable and safe solution that offers minimal inconvenience and noise pollution.
MS&G is currently piloting a program that involves installing bbs-tek systems as start up alarms on raw material conveyor belts.
Memphis Stone and Gravel was founded in 1910 and operates in 10 locations across western Tennessee and northern Mississippi. Facilities include large processing plants for the production of construction aggregate, crushing operations, and road base-gravel production sites.
Source: Brigade Inc., a wholly owned subsidiary of Brigade Electronics plc