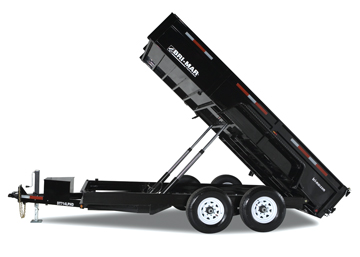 Utility of Bri-Mar Low Profile
Heavy-Duty Dump Trailers
Saves Time and Money
General and landscape contractors deal with materials like wood, stone, dirt, scrap and debris to be hauled and dumped. Light equipment, such as skid steers, mowers, mini-skids and compact utility loaders, must be brought to the jobsite. Consequently, dump trucks and trailers are necessary tools of the trade. Buying, insuring and maintaining both vehicles is expensive and non-productive as either can stand idle when not in use. Bri-Mar's Low Profile Heavy-Duty dump trailers combine both functions. They are more efficient and cost-effective, allowing full utilization of all equipment and manpower.
Designed for a wide range of applications and capacities, Bri-Mar's Low Profile Heavy-Duty dump trailers have the deck positioned between the wheels. The tires and fenders are located outside the frame and body of the trailer, producing a wider, more stable wheelbase and lower center of gravity. The Low Profile deck is closer to the ground and minimizes the angle of ramp incline. This makes it better suited for general, landscape or hardscape contractors who transport equipment and haul materials.
Bri-Mar offers four different Low Profile Heavy-Duty dump trailers. Variations between the models exist to provide the best combination of features to meet unique towing requirements. All have 205 cm wide beds that are 3,65 m, 4,26 m or 4,87 m in length. Small backhoes, skid steers and mowers plus extra equipment are easily accommodated. A deck height of 68 to 78 cm and 1,8 m ladder ramps facilitate loading and unloading of equipment in tight spaces.
Mulch, soil, wood, rock and construction supplies might occupy the same amount of space yet weigh much differently. Bri-Mar LP HD dump trailers have a GVWR of 4500 to 6350 kg, and generous trailer payloads ranging from 3000 to 4400 kg.
The optional gooseneck models are capable of higher payloads as the towing vehicle offsets the trailer weight. A Bri-Mar LP HD trailer has a larger volume capacity than a typical mason dump truck. This translates into fewer trips to move bigger loads. The dump bed reaches a 42-45° angle; it has a remote control power lift but engages a gravity release to extend battery life.
Bri-Mar LP HD dump trailers are coated in a durable powder-coated finish and carry a two-year warranty. Low maintenance and reliability are built in to ensure years of service.
Source: Bri-Mar Manufacturing