The Sterling Bullet Revealed at the World Truck Show
Sterling Truck Corporation has a tough new vehicle in its lineup: the Sterling Bullet. This highly anticipated chassis-cab product was introduced today at the NTEA Work Truck Show 2007 in Indianapolis. The Bullet is the latest addition to the company's full line of Class 3-8 work trucks and will be available at select Sterling dealerships in late Fall 2007.
The Bullet joins the low cab-over Sterling 360 to round out the company's mid-range vehicle lineup. Competing in the Class 4/5 markets, the Bullet is ideal for demanding applications including construction, residential services, landscaping, municipal services, utility, and pickup and delivery.
"Together with the Sterling 360, the Bullet makes Sterling the only commercial vehicle manufacturer to offer a complete line of Class 3-8 vehicles," said Matthew Stevenson, director of light commercial vehicles for Sterling Truck Corporation. "We gave this truck the tagline 'Nothing Stops The Bullet' because there isn't an application this truck can't tackle. Like all Sterling trucks, the Bullet can be customized for the demands of any job."
Several impressive features come standard on the Bullet, including a powerful Cummins 6.7 l ISB engine with exhaust brake, a power take-off prep package, and a rugged 86 cm wide, 50 000 psi frame for easy body builder upfit.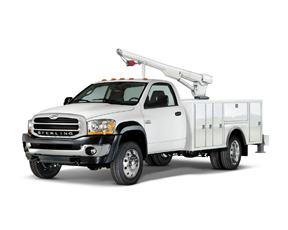 Boasting numerous options, the Bullet is offered as a regular cab in four wheelbases or as a quad cab in two wheelbases. It also features two- or four-wheel drive and optional snow plow and towing packages.
Drivers will appreciate the smooth shifting manual or the optional fuel-saving automatic transmission. Standard air conditioning, easy-to-read gauges, and an adjustable tilt steering wheel reduce operator fatigue, while driver and passenger airbags make the Bullet a safe operating environment.
The Bullet will be available at select Sterling dealers throughout the United States and Canada.
"Sterling dealers are work truck experts and are equipped to provide customers with all of the solutions they need to get the job done right," said Mr. Stevenson. "Plus, customers will get the kind of service they expect from a commercial vehicle dealer: service centers with longer hours, and technicians trained to get trucks back to work fast."
Source: Sterling Truck Corporation