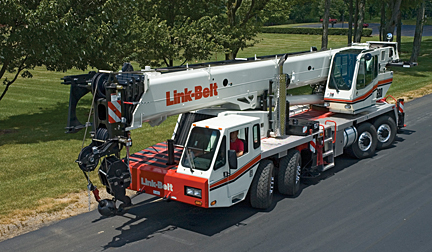 Link-Belt's HTT-8690 Exhibited
at Bauma
Link-Belt Construction Equipment Co., announced plans to exhibit a telescopic truck terrain crane at Bauma in Munich, on April 23-29. The Link-Belt exhibit will focus on the North American market-leading HTT-8690, 81,6 t telescopic truck terrain crane that features job proven all wheel steer capability for operating in tight, congested areas for optimum crane maneuverability, both on and off the job. Link-Belt will share exhibit space 1202/4 with its sister company, Hitachi Sumitomo.
The HTT-8690 Telescopic Terrain crane is a study in power, maneuverability, and simplicity. Following are some of the reasons why this model dominates its class in the North American market.
This crane features Link-Belt's innovative five-section, 42,7 m formed boom. Maximum tip height is 72,2 m with two 4,9 m lattice inserts between the boom head and the optional 10,7-17,7 m, bi-folding lattice. All attachment combinations have offset positions of 2, 15, 30, and 45°.
The standard modular-style counterweight package is 5216 kg. Optional 12 020 kg, 14 742 kg, and 17 917 kg packages further extend the crane's lift performance. The operator can raise and lower the counterweights from the comfort of the cab. Maximum lifting capacity is 81 648 kg with 14 742 kg of counterweight.
Other key feature of this crane is its outstanding roadability provided by its 445 hp engine and ZF AS-tronic automated transmission, as well as its maneuverability. Steerable rear axles in conjunction with super single tires make the HTT agile in tight places. Four steering modes allow this crane to move in and out of any jobsite constraint. The HTT's turning radius is under 9 m (29 ft) at the edge of the tire. And with the transverse differential locks, traction in difficult terrain is easy.
Highly successful for over 100 years, Link-Belt is a leading crane manufacturer in the North American market with a product line that consists of a full range of rough terrain, all terrain, and telescopic truck and crawler cranes as well as lattice boom crawler and truck cranes.