CONEXPO-CON/AGG 2008 - Wrap-Up
Bridgestone Firestone Introduces Next Generation Of Tire Tracking
Bridgestone Firestone Off Road Tire Company (BFOR), an operating unit of Bridgestone Firestone North American Tire, LLC announced it has developed the next generation of its tire management software: TreadStat 3.0. The software was introduced at CONEXPO-CON/AGG.
"TreadStat has been a standard in the industry for years, but now it's even more user-friendly and provides functionality that will help streamline a company's day-to-day operations," said Chris Rhoades, manager, Business Intelligence and TreadStat product manager for BFOR. "TreadStat 3.0 is the culmination of years of feedback from our dealers and end-users. We are proud to say that this easy-to-use tire management software will now be extremely powerful."
BFOR will offer TreadStat 3.0 with the option to perform tire tracking and analysis online as well as from a personal computer beginning in May. It can be accessed from any computer with an Internet connection, which means sites across the country or world can share real-time data.
DANA Unveils Drivetrain Systems
Over the past 50 years, Dana Holding Corporation has demonstrated its ability to supply original-equipment manufacturers with fully realized drivetrain systems designed and integrated to meet specific vehicle demands. At CONEXPO-CON/AGG, Dana was promoting a new generation of drivetrain systems for front-end loaders and telescopic boom handlers that meet the grueling demands of construction, mining, and material-handling vehicles.
"Dana has long recognized that one size does not fit all, and a wide variety of axles, transmissions, and driveshafts is needed to meet the needs of OEMs," said Alfredo Gottardi, vice president of worldwide marketing and sales for the Dana Off-Highway Products Group. "The complete drivetrain systems on display at CONEXPO-CON/AGG exhibit a range of design-efficient solutions with drivetrain component capacities that exceed the life and load requirements of modern vehicle designs."
Dana has designed an optimized drivetrain system specifically for 33 t front-end loaders. The system includes a Spicer® TE32 transmission, a Spicer Model 53R300 front axle, and a Spicer Model 43R183 rear axle.
These axles are available with field-proven Posi-Torq® and Hydraloc limited-slip differentials that supply improved traction control to meet aggressive digging and loading demands.
The Spicer Model 114 (33R092) Hercules front axle and Model 113 (29R053) rear axle, a Spicer 319 summing motor, and the compact Spicer 2035 Series driveshaft are combined as an optimized drivetrain solution for 16 t front-end loader vehicle applications.
This system features a Spicer 319 summing motor transfer case, which provides maximum tractive performance and high efficiency by delivering seamless CVT (continuous variable transmission) performance from 0 to 40 km/h.
Dana's driveline system for side-mounted cab telescopic boom handlers is designed to accommodate the increasing sizes of these vehicles while supporting increased productivity, higher reach, higher lift capacity, and greater versatility. With up to a 5 t lift capacity, the system is composed of two Spicer Model 223 axles and a Spicer HSY08 powersynchro transmission.
Building on the success of the Spicer HSR08 powershuttle transmission introduced at Bauma Munich 2007, the Spicer HSY08 powersynchro transmission offers either electric or automated range shifting with improved controllability. The Spicer HSY08 powersynchro transmission has a very low overall length to accommodate the short wheelbase of telescopic boom handlers, with lateral offset of outputs supporting parallel side-engine installations. An engine-dependent mechanical PTO for implement drives is available as an option.
Source: Dana Off-Highway Products Group
Iveco Motors, Now FPT of North America, Retstructures
The company formerly named Iveco Motors of North America, Inc., proudly announces its new brand name, Fiat Powertrain Technologies of North America (FPT NA).
FPT NA is part of the Powertrain sector of the Fiat Group known as Fiat Powertrain Technologies S.p.A. (FPT), which is wholly owned by Fiat S.p.A.
FPT has restructured its North American offices to align itself for a successful launch of its new brand of engines throughout the power generation, marine and industrial sectors.
Created in March 2005, Fiat Powertrain Technologies S.p.A. is the sector of the Fiat Group including all the powertrain activities previously carried on in: Fiat Auto (Fiat Powertrain), Iveco (Iveco Motors), Centro Ricerche Fiat (CRF) and Elasis (Research and Development).
With its annual output of 3,1 million engines and 2,5 million transmissions, FPT is one of the most significant players in the powertrain sector on a worldwide basis.
FPT NA will operate as an independent Powertrain business as providers of engines and transmissions devoted to the open market and to other Fiat Group companies, such as CNH.
Michelin Expands Off-Road Application Of X One® Wide Single Tire
Michelin Americas Truck Tires has expanded the offering of its innovative line of wide single tires to include the on-/off-road applications. The Michelin® X One® XZY®3 tire is an all-position radial tire designed for optimized weight savings and significant fuel savings in on-/off-road operations.
The X One XZY3 tire features a long tread life using a special compound with outstanding chip and cut resistance needed for an off-road application. With an original tread depth of 23/32, the tire's flat and stable contact patch reduces irregular wear thanks to Michelin Infini-Coil Technology, which features a quarter-of-a-mile of steel cable wrapped circumferentially around the casing to eliminate casing growth.
Enhanced protection from stone drilling is provided by variable pitch groove walls and groove bottom protectors in the center grooves.
The X One XZY3 tire provides a reinforced bead package featuring a wide metallic chafer which leads to great bead durability and resistance to heat, which is common in stop/start applications.
The aggressive shoulder design delivers outstanding wet and soft soil traction, while Michelin's co-extrusion rubber technology provides cooler on-road operating temperatures at speeds up to 120 km/h. The X One XZY3 tire is available in a 445/55R22.5 size.
Source: Michelin
Mack Launches New Prestige Truck with 16-Liter Engine
AB Volvo's subsidiary Mack launching a new prestige truck, Titan by Mack at CONEXPO-CON/AGG. The model is developed specifically for heavy haulage and construction work and is equipped with the new 16 l Mack® MP10 engine.
The new model puts driver environment and comfort in focus and is designed to handle the tough conditions encountered in mining, forestry and heavy construction. Major emphasis was also placed on reducing noise levels and the vibrations that arise in heavy work.
The truck is equipped with a new 16 l engine, the Mack MP10, which is available in 515-, 565- and 605-hp ratings and is approved in accordance with the EPA '07 emissions standards.
Delivery of the Titan by Mack to customers is expected to begin in late 2008.
Source: AB Volvo, Mack Trucks
LeeBoy 705 Motor Grader With Joystick Controls
The 705 Motor Grader by VT LeeBoy, Inc., was unveiled at CONEXPO-CON/AGG featuring joystick control of grader functions integral to the operator's chair in a 7,7 t unit with a 3 m sliding and tilting moldboard.
The 705 is powered by a 117 hp Caterpillar Tier 3 diesel engine and makes grading smooth at high and slow speeds with its 6-speed forward and 3-speed reverse power shift hydrostatic transmission. Infinitely variable speeds up to 32 km/h are achievable in forward. A load sensing variable displacement pump provides superior machine control and enhanced performance and efficiency. The 705 features wet disc brakes and a hydraulic release fail safe parking brake.
Right and left hand joysticks integral to the adjustable suspension operator's chair control all grader functions. The control console has touch pad color screen with basic instrumentation and menu-driven diagnostic capabilities.
Maneuverability of the 705 motor grader is enhanced with 18° right or left articulation behind the cab. This gives the 705 an outside turning radius of 5,3 m. Grading functions are assisted with front axle oscillation of 20°, front wheel lean of 15° and front wheel steering angle of 50°.
Source: VT LeeBoy, Inc.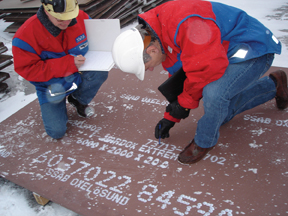 The World's Hardest Steel Plate
SSAB Oxelösund is launching the world's hardest quenched and tempered steel plate with a maximum hardness of 700 Brinell. It aims to replace traditional wear plates by offering higher hardness and better cost-performance. Today, those products are mainly hard-faced overlay plates, hard facing and high chrome white iron. HARDOX® Extreme will achieve a strong position in structures exposed to extreme wear, such as in the mining, cement, and brick-making industries.
"For many customers, quartz is the mineral that causes the highest wear in machines. HARDOX Extreme can be an alternative for them, as it is the first wear plate that can compete with the most advanced hard-faced overlay plates," says Anders Skirfors, Product Development manager at SSAB Oxelösund AB.
The steel has been in production and under test since the beginning of 2004. Several field tests have been conducted with a group of selected customers, where HARDOX Extreme has challenged competing products such as Ni-hards, overlays and chromium rich castings. The tests have shown very good results.
The target applications for HARDOX Ex-treme are mainly various types of liner plates within the mining, sand, cement, concrete and brick-making industries.
Source: SSAB Oxelösund AB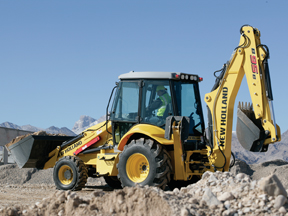 New Holland Premieres the Next Generation of Loader Backhoes
Making their debut at CONEXPO-CON/AGG, the new B95B and B95BTC loader/backhoes from New Holland Construction drew lots of attention from visitors.
The B95B and B95BTC feature a sloped, flip-up hood for easier engine access and increased visibility and a curved boom design for additional clearance when transporting.
The most noticeable new feature of the loader backhoe line is the curved boom where design innovation has increased efficiency and improved performance. The curved boom provides lower transport height and increased breakout force. Continuing with New Holland's tradition of narrow boom design, the new boom allows best-in-class visibility of the bucket, the trench and near-by co-workers throughout its full operating range. Also in line with New Holland tradition, the machine's loader offers superior breakout force. This, combined with the machine's new backhoe features and increased horsepower, ensures maximum productivity.
Source: New Holland Construction
Roadtec ShuttleBuggy® MTV's Proven to Eliminate Crucial 7°C Span
Pavement lifespan tests as they relate to temperature segregation during the paving process have shown that a temperature differential of less than 7°C in the mat behind the paver are key to even compaction and therefore pavement durability. The studies revealed that pavements constructed with a mix that varies in temperature less than 7°C can be compacted to even densities and last twice as long as those built with temperature segregated mixes (Washington State DOT, Tech Notes 1995).
Infrared imaging behind the ShuttleBuggy MTV has shown in test conducted in the U.S. as well as in Europe that the machine easily and consistently remixes to achieve temperature differential below the 7°C threshold. This proven performance has led not only to the machine's popularity all over the world but also allows contractors to earn smoothness bonus and win quality awards. For example, the 2007 pavement quality award recipients in the U.S. state of Arkansas all used the Roadtec ShuttleBuggy MTV on their winning projects.
Source: Roadtec
New LeeBoy 9000 Rubber Tire Paver
VT LeeBoy, Inc. introduced its 9000 Asphalt Paver, a 15 000 kg paver featuring a maneuverable, rubber tire design and an 2,4 m electrically-heated screed system.
This high production rubber tire asphalt paver is powered by a 173 hp Caterpillar Tier 3 diesel engine, which provides the power to push larger tandem axle trucks with ease. The tire system is comprised of two large heavy-duty low pressure rear 19 x 29.5 drive tires. The 12 x 22 solid rubber front tandem steering bogie wheels oscillate to improve mat quality by overriding roadbed irregularities.
Source: VT LeeBoy, Inc.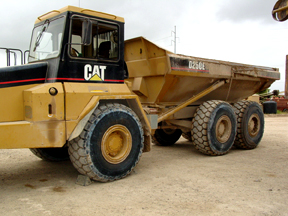 Yokohama Tire Corporation Expands Off-The-Road Tire Sizes
Yokohama Tire Corporation is debuting four new sizes for its off-the-road tire models. The RT41, launched in late 2007 with a 26.5R25 offering, is now available in 29.5R25 and 23.5R25 sizes. The RB31, on the market since 1997 will count two new sizes, 26.5R25 and 29.5R25, to the currently available 17.5R25, 20.5R25 and 23.5R25 lineup.
Both tires feature Yokohama's flexible OTR belt wire and four layers of steel belts, the industry's strongest belt package, that "does everything from improve wear and durability to increase stability," according to Gary Nash, director of OTR sales at Yokohama.
Source: Yokohama Tire Corporation
Volvo Construction Equipment's L220F Hybrid Wheel Loader
Volvo Construction Equipment unveiled a pre-production prototype of its L220F Hybrid wheel loader. Offering more power, better performance and a 10% reduction in fuel consumption, the L220F Hybrid's increased efficiency and cost saving potential will offer customers a much greater return on their investment over the lifecycle of the machine.
Leveraging its position as the world's largest manufacturer of heavy-duty diesel engines in the 9 to 18-liter class, the Volvo L220F Hybrid's parallel hybrid technology has been developed within the Volvo Group and uses as its platform the proven and reliable D12 engine. It features an Integrated Starter Generator, fitted between the engine and the transmission, coupled to a lithium-ion battery. The ISG allows the diesel engine to be turned off and restarted almost instantly - thus eliminating idling - and also boosting the power of the engine when needed - such as when entering a pile of material.
Source: Volvo Construction Equipment
Ritchie Bros. marks 50-year milestone in Las Vegas
Ritchie Bros. Auctioneers marked its 50-year milestone in Las Vegas while conducting its first unreserved auction at its new Las Vegas, Nevada, auction site March 13-14, combined with an auction in nearby Henderson, Nevada, on March 15, 2008.
Ritchie Bros. CEO Peter Blake presented Dave Ritchie, one of the founders of Ritchie Bros. Auctioneers, with a gold 50-year anniversary pin during a mid-morning ceremony in front of the auction crowd.
Source: Ritchie Bros. Auctioneers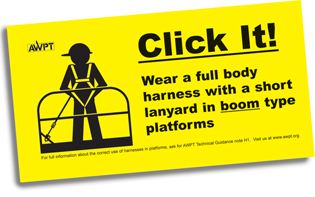 Click It! Safety Campaign Takes Off
The recently launched "Click It!" safety campaign which features stickers encouraging all users of boom type platforms to wear a full body harness with a short lanyard attached to a suitable anchor point has found acceptance with North American manufacturers and rental companies alike.
Sponsored by Aerial Work Platform Training (AWPT), the campaign has been adopted by major rental companies including NES Rentals and Sunbelt Rentals and manufacturers including Skyjack. All companies have agreed to place the "Click It!" stickers on all boom-type platforms they rent, sell or manufacture.
If your organization is interested in obtaining "Click It!" stickers for your machines or copies of AWPT's "Technical Guidance Note AWPT H1" that provides information on their recommendation for the proper use of harnesses and lanyards on different types of aerial platforms, visit www.awpt.org.
Source: Aerial Work Platform Training
IPAF celebrates 25 years of excellence
Founded in 1983, the International Powered Access Federation (IPAF) is a not-for-profit members' organization that represents the interests of manufacturers, distributors, and rental and training companies. It serves as a forum for all active in the world of powered access. Aerial Work Platform Training (AWPT) is the North American subsidiary of IPAF.
Through the years, IPAF has become a strong agent of change in developing and promoting best practice. It has lobbied for and played a key role in promoting many of the now-established design, safety and testing procedures in the powered access industry. The work of IPAF falls under specialist committees dedicated to: training, rentals, mast climbing work platforms, telescopic handlers, manufacturers' technical committee and powered access interest group.
Vehicle Scale Software Offers Powerful, Affordable Way to Manage Data
Mettler Toledo has launched OverDrive 1st Vehicle Software, an easy-to-learn, easy-to-use, complete vehicle scale management system. The new technology, designed for basic vehicle weighing applications, allows users to control scale management via an Ethernet connection.
Requiring no proprietary hardware, OverDrive 1st is widely compatible with a range of competitive scales and scale indicators, and can be integrated easily and seamlessly via a standard serial connection, or by way of a Mettler Toledo JagXtreme controller.
The software delivers mission critical features such as the ability to control one scale in addition to manual scales. An easy to use and easy to understand transaction screen highlights database-driven tables for account, carrier, company, container, contract, driver, permit, product, surcharge, tax, trailer, vehicle, four additional extended tables and two generic text entry fields, and two numeric entry fields. The software enables users to utilize multi-user applications, such as transaction maintenance, a weights and measures log and database imports and exports in a networkable format.
Source: Mettler Toledo
BOMAG BC462EB Soil Compactor
BOMAG's new BC462EB soil compactor combines the proven designs of refuse compactors with single-drum soil compactors functionality. For outstanding gradeability and traction, the BC462EB features four-wheel hydrostatic drive just like that found on a BOMAG refuse compactor. And in contrast to competitive machines, it features a sealed frame to keep soil from entering the frame or engine compartment. It is also equipped with a scraper bar system designed to keep the wheels free of dirt and debris for better compaction. The new class of compactor is well-suited to medium- and large-scale dirt compaction projects.
Source: BOMAG
Deere Unveils the High-Speed Dozer
John Deere has unveiled the first new machine form the construction industry has seen in decades, the 764 High-Speed Dozer (HSD), a unit that will give operators the ability to do more in less time.
This innovative rubber-tracked dozer combines the speed of a grader with the flotation of a crawler dozer. As a result, operators can perform grading and moderate dozing at about double the speed of a similarly sized crawler. They will also have the ability to travel 18 mph across a job site without damaging pavement.
The 764 HSD weighs in at 14,5 t and is powered by a Tier 3 John Deere PowerTech engine rated at 200 hp.
The entire powertrain system works together to distribute power to the tracks for maximum push while avoiding spin. When the machine articulates, the inside and outside track speeds automatically change to improve turning. The hydrostatic transmission also adjusts to deliver the maximum power and speed to the tracks under varying load conditions.
The 764's undercarriage has been designed as a complete unit for maximum life and performance. It excels in soft conditions due to its flotation and provides a smooth ride at higher speeds to produce a high-quality grade. Unlike long steel tracks, there are no track segments to make the blade bounce.
The track sprockets are designed to automatically shed material. Ample room between the track and the roller frame allows for easy cleaning during extremely muddy applications.
Source: Deere & Company
Terex Hired Mike Rowe of Discovery Channel's Dirty Jobs for the Show
Visitors to the Terex booth at CONEXPO-CON/AGG had the opportunity to meet Mike Rowe, creator and star of the Discovery Channel® hit series "Dirty Jobs". By serving as an apprentice to everyday men and women who perform the jobs no one else wants, Mike Rowe has found a hands-on way to pay tribute to a nation of unsung heroes, and get more than a few laughs along the way.
The company also showcased the new Genie® STM-60 and STM-65 Trax Telescopic Booms that offer operators exceptional traction and flotation for easy maneuvering around jobsites, even on challenging terrain.
The Genie® GTHTM-5519 Telehandler has been re-engineered to improve performance and serviceability while keeping the machine affordable and simple to use.
Terex Construction took full advantage of the opportunity to demonstrate the significant benefits of the unique independent front suspension system and integral wet disc brakes on the new Terex® TA30 articulated hauler.
Terex also showed its new TA2S site dumper for the first time. It will replace the PS2000 when it enters production later this year.
In addition, the new TL210 mid-sized wheel loader has received a new 162 hp turbo diesel engine and a technologically advanced "hydrotransmatic" drive system.
The Terex® Demag AC100/4 all-terrain crane was displayed for the first time in the U.S. market.
The new Terex® HC230 crawler crane is an innovative machine in the medium lifting capacity range, offering 230 t of lifting capacity at a reach of 4,3 m, when equipped with a 77 SI boom/ Hammerhead tip. Terex® Comedil showcased the new range of Flat Top tower cranes, the medium CTT series, which is placed in between the already successful City and Big series.
With a lifting capacity of 109 t, the new Terex® RT1120 is currently one of the most powerful rough-terrain cranes in the U.S. market. The new stinger-class Terex® BT4792 truck crane has lifting capacity of 21 300 kg and total weight of 27 200 kg.
Terex Mining also unveiled the R30C hydraulic track drill from Terex® Reedrill and the RC5 hammer from Terex® Halco.
The Terex Roadbuilding group featured the latest advancements for Terex® asphalt plant equipment, including the latest plant options available for producing warm mix asphalt.
Making their tradeshow debut were the PR165 and PR330 cold planers. Also, the Terex® CR552 mainline paver equipped with the new VersaScreed 210 front extendable screed.
The Terex® RS350 reclaimer/stabilizer with its new operator's cab and the Terex® front discharge transit-mix truck on display featuring the exclusive Total Control System were also on display.
Source: Terex Corporation