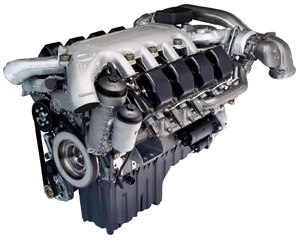 MTU Demonstrates SCR Technology
At CONEXPO-CON/AGG, the Tognum subsidiary MTU Detroit Diesel displayed one of its Series 900 engines that is Tier 4i compliant using selective catalytic reduction (SCR) technology. Diesel engine manufacturer MTU Friedrichshafen has already demonstrated the experience and expertise necessary to offer its customers EPA Tier 4i compliant engines when these off-highway emission standards take effect on January 1, 2011.
The versatile Series 900 and Series 500 engine families were the ideal candidates for the use of selective catalytic reduction (SCR) to meet upcoming Tier 4 interim emissions regulations. "These engines have established themselves as the premier engines in their power class," said Scott Jenkins, director of C&I Sales for MTU's North American division, MTU Detroit Diesel. "And they have proven to perform just as well with SCR."
Emissions reduction often works in opposition
, explained Gerhard Kramer, director, Application Center Industrial for MTU. For example, reducing particulate matter often increases the output of oxides of nitrogen (NOx), and vice-versa. "As designed, the Series 900 and Series 500 engines exhibit low particulate matter emissions," said Mr. Kramer. "To comply with NOx limiting values, an SCR system is added."
An SCR system works by injecting urea into the exhaust stream where it reacts with nitrous oxides to produce harmless nitrogen and water. This reaction takes place when the urea and exhaust gases pass over a catalyst material in the SCR unit. Urea consumption varies with duty cycle and other factors but is not expected to exceed 5% of fuel consumption. As a rule of thumb, fuel consumption compared to Tier 3 engines is reduced by a similar amount, so that total consumption of liquids remains the same.
The SCR system itself consists of engine-mounted hardware, urea lines, electrical wiring and a catalyst unit somewhat larger than a muffler. The catalyst unit is used instead of the standard muffler.
SCR is a proven technology already found in a wide range of applications. Some 200 000 on-highway versions of Series 900 and Series 500 engines have already been sold and are operating satisfactorily. In Europe, all major truck manufacturers have adopted this technology. Urea will likely also be required for diesel engines to meet the on-highway 2010 emissions standards in North America, so the delivery infrastructure is being built out rapidly. Urea is non-toxic and requires no special handling. Service trucks will refill off-highway equipment with urea at the same time as they refuel that equipment.
"Other emissions reduction technologies have merit and MTU has experience with all of them," said Scott Jenkins. "Our philosophy is to match the best technology to the needs of the specific engine, and in this case SCR was by far the best choice. We wanted to take these proven engine families with state-of-the-art designs, and bring them into compliance with the next round of emissions standards without compromising the benefits the engines. SCR allowed us to do that optimally by adapting the existing on-highway technology for industrial use."
Source: MTU Detroit Diesel, Inc.