EVI Cruises into MATS with First "Road Ready" Commercial Electric Vehicle to Hit the U.S. Market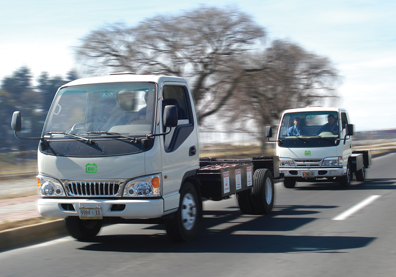 Electric Vehicles International (EVI) made the first ever "Road Ready" EV/HEV class 3-6 commercial vehicles available for demonstrations at the 2009 Mid-America Trucking Show in Louisville, Kentucky. Having completed its launch into the U.S. market earlier in March, EVI offers customizable fully electric vehicles or hybrid electric vehicles that are in full compliance with the major federal and state regulatory agencies in their respective weight classes.
In the U.S., with a nationwide push for energy independence and smarter financial decisions, public and private entities alike are urging managers to electrify their fleets. The recently passed American Recovery and Reinvestment Act of 2009 included a number of financial incentives for EVs that can range from US$7500 to US$15 000 per vehicle. In addition, many states and municipalities are awarding grants and tax incentives for the procurement and use of eletric and hybrid electric transportation. When these incentives are combined with EVI's competitive pricing and lower operating costs, it can help fleet owners and businesses of all sizes achieve significant efficiencies and have a positive impact on the bottom line in the process.
In addition to the two commercial truck models (eviLightTruck and the eviRoute 1500) that EVI manufactures, the company has developed a cutting-edge drivetrain and offers engineering services including conversions to hybrid electric vehicles. All of EVI's vehicles, which are presently available to the U.S. market, are "Road Ready" glider chassis, assembled in the U.S. EVI's motors and controllers are built in the U.S. and the trucks' patented lithium phosphate batteries are supplied by Valence Technology, an international manufacturer and supplier of safe lithium phosphate energy storage solutions based in Austin, Texas.
The 37th Mid-America Trucking Show, was held at the Kentucky Expo Center, in Louisville, Kentucky, March 19 - 21. As part of the company's U.S. launch, EVI attended several leading industry events including the recent Work Truck Show in Chicago, Illinois, Faster Fleet Cleaner Air California show in Long Beach, California and the upcoming Alternative Fuels & Vehicle Conference in Lake Buena Vista, Florida, April 19 - 22.
Source: Electric Vehicles International