Kenworth C500s Help Premay Equipment Move 550 000 kg Reactor to Canada's Oil Fields

To move a reactor that weighs more than the largest, fully-loaded Boeing 747 to the oil sands region in Northern Alberta, Premay Equipment relied on a herd of 9 Kenworth C500s with a total of 4800 horses under their hoods to get the job done.
The 545 t shipment consisted of a 4,16 m diameter by 33,5 m long reactor destined for the petroleum-rich oil sands mining area in northern Alberta. The reactor is part of a planned expansion of Suncor Energy's oil sands operations.
"The Kenworth C500s performed beautifully," said Brent Harris, president of Premay Equipment L.P., a subsidiary of Mullen Transportation Inc. The Edmonton-based company specializes in heavy hauls for western Canada's oil and gas industry. Its hauling and rigging division transports giant equipment over highways and off-road to production locations such as Alberta's oil sands. The division also hauls equipment to natural gas production fields throughout western Canada.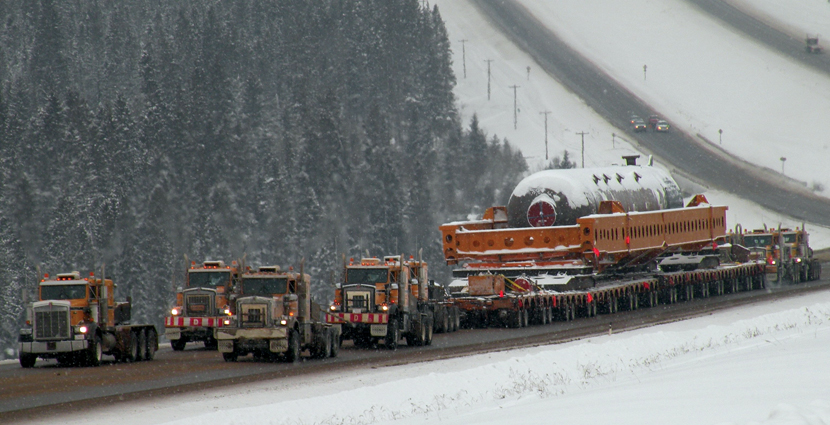 The enormous reactor was loaded onto a transport frame with each end of the frame supported by a hydraulic platform trailer. Each trailer was configured at 6,4 m wide by 39,6 m long and had 56 axles with 4 tires on each axle, (in all, 448 tires). One Kenworth C500 tractor in front pulled and four in back pushed the 7,6 m high load at a maximum speed of 20 km/h for most of the 130 km northbound trip on Alberta Highway 63 from Lynton Siding, which is 20 km southeast of Fort McMurray, to the job site at the Athabasca oil sands.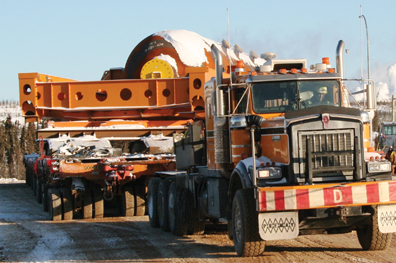 When the shipment got to Supertest Hill, Premay added another four Kenworth C500 tractors to the front. "The nine C500s handled the three-quarters of a mile long climb, with about an 8% grade, without any major issues," Mr. Harris said. "Thanks to the C500s, we were able to keep to our timetable, which is important because the northbound lanes of Highway 63 were closed for safety reasons."
Premay makes these mammoth moves in the cold of winter when roads freeze hard; spring and summer maneuvers of that weight would damage the highways. To keep all that weight under control and moving efficiently, Premay's Kenworth C500s are equipped with 525 hp engines driven through Allison automatic transmissions. Four of the nine C500s have tridem drives equipped with 48 000 kg rear planetary hub-reduction axles to provide added traction on icy and snowy roads.
Premay operates a fleet of more than 50 trucks, of which more than 90% are Kenworths. The company's other Kenworth models include T800s, W900s and T660s. To help keep its fleet of trucks running, Mr. Harris said the company relies on after-the-sale support from its local Kenworth dealers. "Since we do most of the routine maintenance on our trucks, Edmonton Kenworth and GreatWest Kenworth offer us Kenworth PremierCare® Connect which links us directly to its parts department," he said. "We use the program to manage our parts inventory and make sure we're getting the right replacement parts, which means no delays in getting our trucks back in service."
Brent Harris joined the company as a truck driver in 1978 when it had just 3 company trucks and 14 leased truck operators. In addition to quality and durability, the company chooses Kenworth trucks for driver comfort. "Kenworth designs trucks with comfortable, ergonomic environments, which help our drivers stay alert and on top of things. That's critical in our line of work because an alert driver can react better to unforeseen circumstances," said Mr. Harris.
Brent Harris said he also appreciates how Kenworth's engineers work with his company's drivers and managers to develop the right truck specifications for his company's application. "Kenworth engineers are forward-thinking and listen to their customers. That's how they develop trucks with all the latest technology that can help their customers run efficient and productive operations."
Source: Kenworth Truck Company