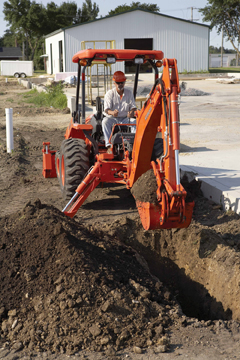 Kubota Adds L45 TLB to its Lineup
Kubota introduces the new L45 tractor-loader-backhoe, a tractor built for power and versatility. The L45 combines a strong loader and backhoe with 3-point implement capabilities. Powered by a 45 hp Kubota diesel engine and new HST Plus Transmission, Kubota's L45 is ideal for rental users, contractors, landscapers and homeowners with professional results in mind.
Both the L45 loader and backhoe feature innovative new design and enhanced capabilities. The loader has a lifting capacity of 1000 kg with a 2,9 m lifting height. The L45 backhoe boasts a 3 m digging depth, a high-performance inching valve and a standard hydraulic thumb bracket. The L45 features standard backhoe crawling mode, providing the ability to move at "creep" speed, ultimately saving time when repositioning while trenching.
Whether hauling, tilling or cleaning with a box scraper, the L45's rear axle and independent PTO powers a wide selection of tools, allowing the L45 to provide immense versatility. From a multi-functional quick coupler to detachable backhoe and rear remote hydraulic control valves, attachments can be easily mounted and exchanged on the loader, backhoe, and optional 3-point hitch of the L45.
Source: Kubota Tractor Corporation