Rajant Announces Agreement With Cashman Equipment
Rajant Corporation announced recently that it has entered into a reseller agreement with Nevada-based Cashman Equipment Company to market, sell and support its BreadCrumb® wireless mesh communications product line.
"We are looking forward to working with this top member of the Caterpillar dealer network. With this new dealer agreement, Rajant will have the opportunity to reach out to a whole new group of mining and construction customers," said Frank Olivieri, director of Business Development, Mining division for Rajant. "Cashman is very well known for their experience, solution knowledge, and world-class customer service and support."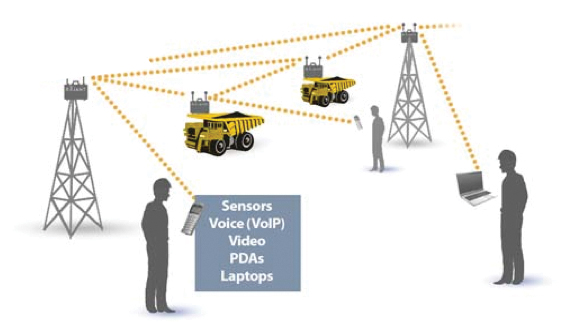 Headquartered in Henderson, Nevada, Cashman is one of the highest rated Caterpillar equipment dealers in North America. What began as a sales opportunity to supply a few pieces of equipment to the Hoover Dam project in 1931 is now one of the largest privately-owned corporations in Nevada.
Cashman is a full service Caterpillar dealership providing new and used equipment sales, service, product support, parts, and rental services with locations throughout the state of Nevada including Reno, Winnemucca, Elko, Round Mountain, Carson City, North Las Vegas, and Henderson. Cashman will be a major partner in the sales, delivery, installation, training and support of Rajant wireless BreadCrumb® networks. Primary customers will include mining and construction companies.
The Rajant network is made up of wireless BreadCrumb® devices that form a wireless, meshed, self-healing network for health monitoring, fleet management, and other critical mining and construction applications such as Caterpillar's Vital Information Management System (VIMS), condition monitoring, asset management, operator communication and dispatch. Many vehicles and workers that require wireless communications are constantly on the move throughout the mining network. The Rajant network's wireless BreadCrumb® nodes can rapidly adapt to any changes in the network topology, assuring that IP traffic uptime and bandwidth are maximized. Operators of mining and construction companies directly benefit from the Rajant network by an increase in operational efficiency and lower operating costs, saving them money.
"Cashman is very proud to become an authorized Rajant reseller," said David Griffin, Technical Services manager at Cashman Equipment Company. "The Rajant wireless BreadCrumb® products have helped mining and construction companies become more efficient with their operations and safer too. We are pleased with the opportunity to add Rajant's BreadCrumbs to our technology solutions offering."
Source: Rajant Corporation