Flying start for WIRTH's Mining & Construction Unit
WIRTH's recently restructured Mining & Construction business unit reports a positive start of 2009, with the booking of several orders. The M&C division was created by merging the previous Tunneling, Mining and Foundation business streams. The advantages of the new structure are the combination of efficient resource planning and global presence, as well as the technology mix that creates new possibilities within the marketing strategy. This will ensure WIRTH's position as one of the most innovative and reliable technological partners in the market, whilst upholding the customer advantage in terms of productivity, safety and low operating costs.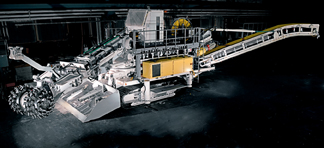 The new orders have been reported in different product lines of M&C.
One T3.20 roadheader for Sochi – OOO Tonneldorstroy – A new machine to construct the required infrastructure for the host-city of the Olympic Wintergames in 2014.
Two T3.20 roadheaders for a railway tunnel in Algeria – OHL – Two fully equipped roadheaders to support the construction of the Ras el Má and Guessaba tunnels, on the railway alignment between Ramdane Djamel and Annaba.
One T3.20 roadheader for a roadtunnel Val Badia in Southern Tirol, Italy – Oberosler – A specifically sensitive project in Italy with a roadheader to excavate the E66 road passing underneath the Sonnenburg Castle. Delivered with an extremely short delivery time.
Four PBA 818 pile top drill rigs, with drill string and special equipment for Wolfs Creek Dam restoration in the U.S. – JV Trevi-Bachy – A challenging project to install a sheet wall, founded into the rock base, in order to reinforce the dam structure.
One 3,9 m Gripper Tunnel Boring Machine for Sardinia – Todini S.p.a – New hard rock TBM to excavate the rescue tunnel of the SS125 roadtunnel project on Sardinia from Capo Boi to Terra Mala. Delivery will be in October 2009, when it will start to excavate the tunnels of Marapintau and Matineddu.
Source: WIRTH GmbH