Top Stolen Vehicle Recovery Stories Underscore
The Serious Problem of Vehicle Theft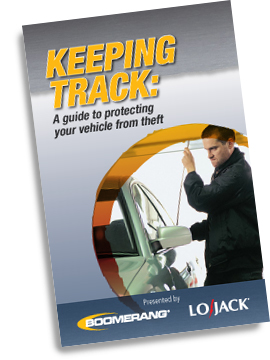 Boomerang Tracking, Canada's leader in stolen vehicle recovery, revealed its recent top recovery stories of trucks, commercial equipment and vehicles equipped with a Boomerang device. These stories not only indicate that vehicle theft remains an ongoing societal problem, but also highlight the important role that Boomerang Tracking plays in aiding law enforcement to recover stolen vehicles, dismantle organized auto theft rings and get the criminals – many professional – off the streets.
The following are highlights of Boomerang Tracking's top stolen vehicle recoveries:
Seven – Not a Lucky Number – The driver of a tractor-trailer was carjacked by a professional cargo theft gang that stole both the truck and its $2 million cargo. Boomerang Tracking helped local law enforcement recover the tractor-trailer and all the stolen merchandise in only one day. Seven members of the cargo theft gang were arrested.
A farm that cultivates a great recovery –A 2007 John Deere 310SJ was stolen from a construction site. The Boomerang Tracking Team quickly located the stolen machinery on a private farm. Local police arrived on the scene with a search warrant to recover the equipment and found not only the stolen John Deere but also three other pieces of construction equipment including a Mack truck and two asphalt pavers valued at nearly $360,000. Yet another theft ring dismantled with the help of Boomerang.
A vehicle recovered…for the 3rd time – A 2005 Dodge Neon was reported stolen from its parking spot on a street facing the owner's residence. The Automatic Theft Notification from the Boomerang device in the vehicle led to its recovery in a nearby condominium parking lot. It was the third time this vehicle had been stolen—and recovered—which shows just how persistent thieves can be.
A scary withdrawal deposits thieves in jail – A woman was withdrawing money from an ATM machine when two criminals robbed her at gunpoint. They took her cash, purse and car keys—and drove off in her 2008 Acura MDX. The Boomerang Tracking Team helped law enforcement recover her car quickly and put the opportunistic thieves behind bars.
A doggoned good recovery – A client contacted Boomerang Security Central immediately after noticing that his 2008 Honda CRV was missing. He had made a quick stop at a gas station and had run inside to get some coffee. He not only left his keys in the car but his two dogs as well. Thanks to the Boomerang Tracking Team and law enforcement, the car was found less than 5 km away from the gas station with both canine friends unharmed.
"These stories demonstrate why Boomerang Tracking is the leader in recovering valuable mobile assets," said Michael Lendick, Boomerang Tracking's Security director. "Time after time, our System delivers on its promise of helping law enforcement find and recover stolen vehicles in a timely fashion. To date, Boomerang Tracking devices have aided in the recovery of more than 6,800 vehicles and other assets with an approximate value of more than $339 million."
Learning About Vehicle Protection
To help people learn about protecting their vehicles from theft, Boomerang Tracking has published a booklet for consumers entitled "Keeping Track." The booklet is a guide that reviews the issue of vehicle theft in Canada and describes four steps consumers can take to protect their vehicles against theft. A free electronic version is available at www.BoomerangTracking.com/knowledge.
Source: Boomerang Tracking Inc.