3D Virtual Reality Depiction of Construction Site Equipment
French software specialist Creative Business Solutions announces new MethoCAD module for construction site management and safety.
An audio-visual module that uses 3D virtual reality software to depict construction equipment deployment and safety along with other aspects of site management, and which is shipped on a USB key, has been introduced by French software specialist Creative Business Solutions.
The module is part of the MethoCAD suite of construction site planning, management and training software.
"The modules are addressed directly to the management on the building site, team leaders and workers," says Albert Fitoussi. "Virtual reality 3D graphics plus the use of sound allows anyone to put themselves right in the center of a project, even when it is at the planning stage, and so prepare for optimal site management and safety." The user visualises the various sequences by means of a menu under Windows.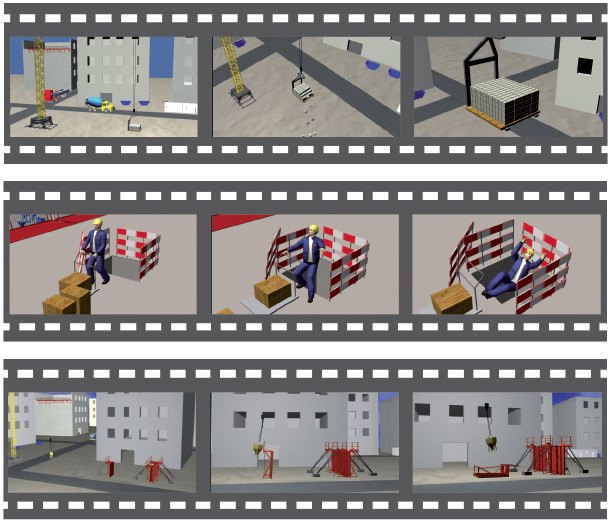 Mr. Fitoussi says that the software allows checks to ensure that, for example, tower crane lifts are safe or that a particular model is suitable for operating in a confined area.
"MethoCAD uses AutoCAD information from manufacturer's libraries to ensure that equipment is represented accurately," he says.
MethoCAD is also proving very popular for making presentations to clients. Easily-generated 3D views illustrate exactly how the scheme will progress. The software also includes virtual reality 'walk-through's' that enable entire operations to be previewed in 3D.
The system covers tower crane planning, with features to ensure safe loading and avoidance of 'clashes' by checking the minimum clearances between cranes. This can be particularly complex on sites with many cranes where safety cannot be managed without software.
The software takes account of all kinds of other site activities, including the use of earthmoving machinery, trucks, formwork, the permanent works and the routes for vehicles entering and moving around the site.
Positioning of tower cranes can be checked both in plan and elevation, which is particularly important to ensure safe distances between jibs, counter-jibs, anchor cables and masts for all the cranes on a site.
It also allows for the planning of safe use of mobile cranes, particularly when dismantling tower cranes at the end of a project when space and access are limited.
"In general, companies make preparations for positioning the tower cranes they will use on site but preparations for mobile cranes tend to be neglected," says Mr. Fitoussi. All too often, he says, "the mobile crane driver arrives on site only to find that access is limited and that the job would require the crane hook to be extended further than permitted values."
Planning the operation in MethoCAD helps avoid the dangerous situation where the operator decides to override the safety devices and attempt the job by lifting loads greater than those that are authorized by the manufacturer.
This module allows the user to check that the operation can be carried out within allowable limits. MethoCAD contains information supplied by manufacturers so that the capacities of different models of crane are accurately represented.
The software checks weights will be safe at particular reaches and shows the loads at each position of the crane hook on a plan view, with concentric circles indicating the limits.
Albert Fitoussi says that Creative Business Solutions has always worked in partnership with manufacturers to make sure that MethoCAD includes up-to-date information on all the key parameters.
Issued on behalf of MéthoCAD by Joem Promotions