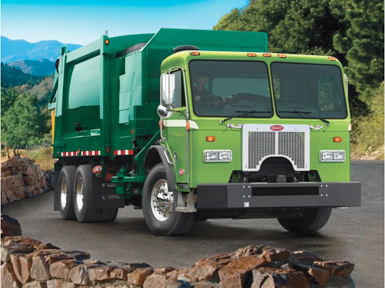 Peterbilt Launches Model 320 Hybrid
Peterbilt Motors Company recently announced the limited production availability of the Model 320 Hybrid Class 8 refuse truck. The low-cab-forward Model 320 Hybrid utilizes Eaton's Hydraulic Launch Assist™ (HLA) technology and is ideal for vocational stop-and-go applications such as refuse collection.
"Testing has proven that the Model 320 Hybrid powered by Hydraulic Launch Assist Technology is an ideal environmental option for refuse applications," says Bill Jackson, Peterbilt general manager and PACCAR vice president. "Municipalities and refuse customers have realized dramatic improvements in fuel economy and significant reductions in emissions and maintenance costs while operating the Model 320 Hybrid."
The Model 320 Hybrid is the fuel-efficient solution for municipal and residential solid waste transportation fleets who work in urban areas requiring clean, quiet operation. The Model 320 Hybrid was engineered to meet the reliability demands of refuse collection routes with 800-1200 stops per day.
The highly fuel-efficient hydraulic system captures the truck's kinetic energy during braking to assist in launching and accelerating the vehicle. The HLA technology works by recovering up to 75% of the energy normally lost by the vehicle's brakes in the form of pressurized hydraulic fluid. This fluid is stored until the driver next accelerates the vehicle which reduces fuel consumption and wear on the engine. Testing has proven a significant reduction in maintenance costs, and indicated the potential to reduce annual brake replacement costs by 3 to 4 times over a similar non-hybrid baseline truck.
In "fuel economy mode," savings occur when stored energy is used to launch the vehicle without power from the primary engine. In "performance mode," the stored energy is released and blended with engine power at launch. Here, a double-digit savings in fuel economy can still be realized, along with an 18% improvement in acceleration.
Source: Peterbilt Motors Company