Students Design the High-Visibility Pothole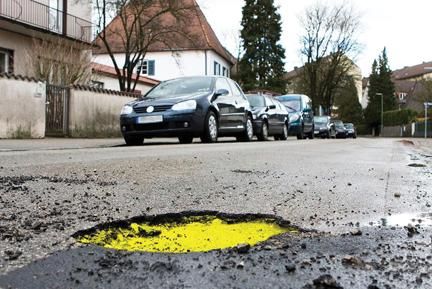 Potholes on the road could be much easier to spot in future, thanks to a design idea created by students at the Milan Polytechnic in Italy.
Domenico Diego and Cristina Corradini have designed the "Street Safe Initiative" which comprises a brightly-coloured layer of asphalt a few centimeters beneath the surface of the road, which becomes visible when the road surface breaks up, making potholes easier to see and avoid.
The unique design will be trialled later this year in Rho, a small town close to Milan, to determine if the project is viable and cost effective, after which they plans to market the product.
"We have compared the road surface to the human skin – when we are wounded, we start to bleed. So our idea is to put a layer of yellow asphalt beneath the tarmac, which appears and creates a high chromatic contrast that is visible from a distance.This way, the potholes are signalled as they appear and road users have enough time to react safely," said Mr. Diego.
Duncan McClure Fisher, managing director of Potholes.co.uk, said: "This is an innovative way to make potholes more visible to road users and to help reduce the damage caused to vehicles. We're all for pothole solutions that protect the motorist from potential car damage or personal injury, but the solution is not entirely practical and it doesn't tackle the real issue of preventing potholes in the first place."
Mike Conway, managing director of highway maintenance and construction firm, FM Conway, said: "It's a novel idea but it's not the right solution right now. To make layers of tarmac stick together we use a bituminous coating that acts as a glue and you'd have to go right back to the manufacturing stage and work out how to make it bright yellow. We should be looking at how to reduce costs by doing the job right in the first place, rather than creating expensive solutions that only have an effect once the pothole is already there."
Source: Potholes.co.uk