Western Star Introduces the 4900 109'' BBC
Model at the Work Truck Show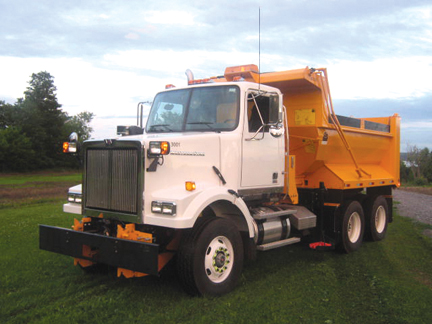 Western Star Truck Sales, Inc. introduced the updated 4900 FA and SA 109'' BBC models at the Work Truck Show, held in St-Louis, Missouri. Now featuring Allison 3000RDS transmission and Detroit Diesel® DD13™ engine, Western Star is the only OEM to offer this powertrain combination in a 109'' BBC configuration.
Ideal for construction, government, refuse and utility applications, the versatile 109 offers superior visibility, and can easily maneuver through suburban streets and congested job sites. With the shortest BBC in its class, the 109 is engineered for maximum durability, and features superior customization capabilities that meet the serious demands of a work truck.
"Western Star vocational customers demand a premium work truck that's ready to meet the on-site challenges of their job," said Mike Jackson, general manager, Western Star. "With the addition of the Allison transmission and body builder-friendly features, the 109 is the complete custom package that will get the job done."
Additional updates to the 109 include under hood air cleaners with inside/outside air and dash controls - ideal for snow plow applications - and a 23 l DEF tank with better packaging and increased clearance on the back of the cab.
The 109 is available with a 5450-9000 kg front axle, and 9500-20 800 kg rears. The 13-liter DD13 engine features 350-450 hp and 1250-1650 lb ft of torque, and incorporates Detroit Diesel BlueTec® SCR technology. When coupled with an Allison automatic transmission, the 109 features maximum power and efficiency to tackle the toughest jobs.
And critical to the needs of a work truck, the109 is also body builder friendly. Featuring a clean back-of-cab, and maximum space on the rail, the 109 allows body builders to create a customized body with easier installation that meets the specification needs of their customers.
"The updated109 provides our customers with the options necessary to build a work truck the way they want, that's more efficient than the competition," added Mike Jackson.
Source : Western Star Trucks