BAE Systems Launches HybriDrive®
Green Parallel Propulsion System for Trucks
At the National Truck Equipment Association Work Truck Show, BAE Systems launched its parallel hybrid green propulsion system for heavy-duty truck applications. The parallel system, designed for Class 6, 7, and 8 vocational trucks, is the latest version of the company's HybriDrive® green propulsion system. The work truck show was held at the Indiana Convention Center from March 8-10, 2011.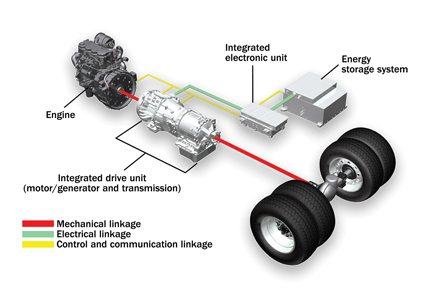 The HybriDrive series propulsion system – currently in service on more than 3,000 transit buses in cities around the world – meets the demands of urban transit duty cycles, which require low average speeds and frequent stop-and-go operation. The HybriDrive parallel system is designed to address the needs of vehicles with duty cycles that require higher operating speeds and less frequent stops.
HybriDrive series and parallel technologies both use simplified and proven components and controls to deliver their capabilities. While the series system does not use a transmission, the HybriDrive parallel system is based on a single electric machine integrated between the engine and the transmission. The system can be installed with minimal impact to the vehicle, and enhances propulsion through an optimized blending of internal combustion engine power and electric power. The system's energy management and control capabilities ensure all energy flow – such as propulsion and recuperation – occurs in a highly efficient fashion, resulting in lower fuel consumption and reduced emissions.
The HybriDrive parallel system's power and torque ratings range from 95 hp to 145 hp and 300 – 400 lb ft. The system is designed to support large bore heavy-duty power plants ranging from 350 to 600 hp, with associated torque ratings of 750 to 2150 lb ft.
Buses equipped with BAE Systems' HybriDrive series system have transported more than a billion passengers in cities across North America and in the United Kingdom.
The HybriDrive parallel system, in final stages of development, will see its first road trials this spring and is expected to be deployed in markets around the world in 2012.
Source: BAE Systems