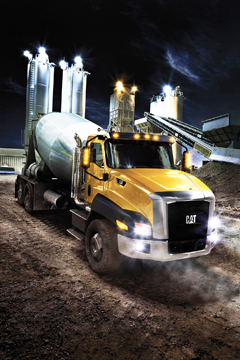 Dealers Ready for New Cat CT660 Vocational Trucks
Caterpillar announces that its North American Cat Dealer network will be fully prepared to offer whole-truck service and sales support for the company's first ever Cat® Vocational Truck, the Cat CT660. Since announcing the new line of on-highway Class 8 Cat Trucks in 2008, personnel at all 54 U.S. and Canadian Dealerships, including their over 400 service locations and 2,300 service bays, have been engaged in intense training to ensure they are ready to meet customers' product support needs for the trucks.
The capabilities Dealers have been adding to provide customers with bumper-to-bumper support for the Cat CT660 are a natural expansion of their existing truck capabilities and expertise, according to the Director of the On-Highway Truck Group, George Taylor, who leads the design, development and launch of the new trucks. Taylor said, "Caterpillar and Cat Dealers already had extensive experience supporting on-highway customers from our 40-plus-year history of serving the truck industry, especially with powertrains."
"Cat Dealers are excited about the new Cat Trucks and thrilled to make them available to customers," he added. "Dealers have also shown extraordinary dedication to ramping up their facilities and expanding sales and service support capabilities to meet truck customer needs."
Glenn Keenan is the vice president of Power Systems at Toromont, with 26 locations that cover Ontario, Manitoba, Nunavut, Newfoundland and most of Labrador, Canada. He said, "When we committed to going down this path, we did a skills' assessment of our technicians. We were pleasantly surprised at how skilled and prepared our technicians already were for servicing Cat Trucks from bumper-to-bumper."
According to Mr. Keenan, Toromont has also been hiring truck technicians, mechanics with specialized expertise in chassis, transmissions, engines and axles, and the Dealership already had most of the infrastructure in place to service Cat Trucks, including 100-plus service bays. "We can actually offer customers a broader range of services because we've got great depth in dyno and chassis service capabilities," he said. "Basically, we already work on 'things on the back end' of the truck that require hydraulics or welding."
Mr. Keenan also said, "As we've been preparing, we've actually changed the complexion of our Dealership. And we are in a good spot to source all-chassis."
According to George Taylor, since Cat Dealers have been working to meet the Cat Equipment needs of customers for decades, Dealers know the demands and understand the challenges customers face. "I think one of the main reasons Dealers are so excited about our new line of vocational trucks is because they realize these trucks are going to help customers succeed," he said.
The Cat CT660 trucks complement other Cat Equipment, and Dealers recognize how important the trucks will be to customers in handling the demands of their jobsites and the work they do. So it's really no surprise Dealers are working so hard to make sure they're well-prepared to offer the same level of support for the trucks that customers have come to expect for all Cat products."
Cat CT660 Vocational Trucks will be sold and serviced exclusively through the Cat North American Dealer network, with production beginning after CONEXPO for customer delivery later in the year. The Class 8 vocational trucks will offer custom solutions, including many different body types like dump, refuse, hauler and mixer, for a large variety of job applications.
Product Manager Gary Blood said, "We're really looking forward to seeing the reaction to the Cat CT660 and releasing more details about its features and benefits at our unveiling."
Source: Caterpillar