New Ontario Dealer for Cimline
Cimline Pavement Maintenance Group (CPMG) is pleased to use 2011 CCONEXPO-CON/AGG to announce that Amaco Equipment of Mississauga, Ontario has been appointed the Authorised CPMG Distributor for the province of Ontario.
"It is an excellent fit for us and brings an established equipment house into our network, particularly in such an important territory", according to Rob Holden, National manager for CPMG. "This announcement represents the latest stage in an ongoing distribution review for Canada."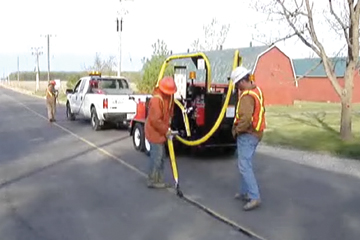 Amaco is a privately owned specialist
equipment distribution operation headquartered in the Toronto area and serving the province for over 25 years. Jeff MacDonald, president and sales manager for Amaco had this to say: "We are very excited at this opportunity to expand our municipal and contractor equipment offerings. Adding Cimline/Durapatcher to our stable makes us the only full service roads maintenance specialist dealer in Ontario."
CPMG is the operational group of companies which includes Cimline, Durapatcher and Equipt. CPMG is the leading manufacturer of pavement maintenance equipment in North America. Products include the popular Magma Series cracksealing melter/applicators, Durapatcher and DuraMaxx velocity patching equipment and Equipt Commercial Sealcoating machinery. Other products include emulsion storage tanks and a range of related accessories for every pavement maintenance job.