Customers and Deere Designers Collaborate to Create New G-Series Excavators
The direct result of ongoing collaboration between excavator customers and Deere engineers, John Deere has launched 3
new G-Series Excavators featuring IT4-certified engines, more power and cab improvements to increase visibility.
The new series introduction includes the 250G, 290G and 350G, ranging from 191 hp to 299 hp. Each product's IT4-certified engine allows customers to meet the latest local emissions regulations and bid specifications without sacrificing power or
performance.
"We've increased power and hydraulic flow while also adding the IT4 engine," said Mark Wall, John Deere's excavator product marketing manager. "The end result is 8% more productivity for our customers. They can do more work, faster."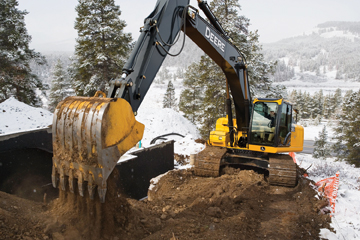 Customer John Gleim, one of a group of excavator owners that have shared their needs and opinions with Deere for many years, noticed a power gap between
excavator models that wasn't apparent during conventional digging. It was apparent in another application, craning trench boxes. So he told Deere engineers about it when they paid a visit to his jobsite.
"If you can't handle trench boxes easily, you'll find people cheating," Gleim said. "They won't use as big a box as is really needed, and pretty soon safety is compromised. We can't have that – safety is critical to our day-to-day operations. I
talked to Deere about adding more stability and power. They not only listened, they responded," he explained.
Customers also asked Deere for specific visibility improvements in the G-Series cab,
according to Wall.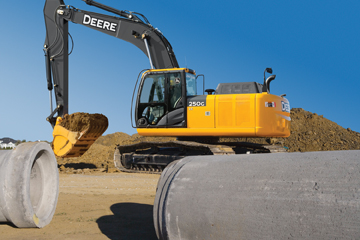 "Based on customer feedback, we redesigned the upper structure to include more glass and more lighting to improve sightlines," Wall said. "If you can see more around the machine without stretching your neck or leaning out of your seat, you'll be more comfortable and productive over the course of a shift."
The new G-Series also retains a number of key features from the previous D-Series, such as the Powerwise III management system that perfectly balances engine and hydraulic performance. Generous hydraulic flow and best-in-class metering ensure powerful digging force, precise, low-effort control and superb multi-function
operation. Deere's exclusive cooling system cools on demand and has an optional reversing fan to blow out debris. Fast and simple access to the core makes cleaning easy.
A spacious, quiet and well appointed operator's station features a full suspension high-back seat that adjusts independently from or together with the control console to accommodate any size operator.
The next models within the series, the larger 470G, 670G and 870G, will be formally introduced later this summer..
Source: Deere & Company