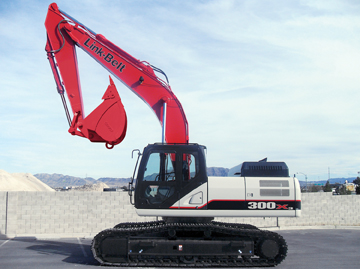 New Link-Belt® X3 Series Excavators
In 2011, LBX will introduce five new Link-Belt X3 Series Excavators beginning with the 250-, 300- and 350-class machines, followed mid-year by the 250 Long-Front and 470-class excavator. The X3 Series full-sized conventional models have been completely redesigned with an all new ROPS certified cab and interior, new Interim Tier 4A engine technology and up to 10% better fuel efficiency, more lift capacity, faster cycle times and improved serviceability.
Isuzu engines deliver unparalleled performance and power to respond to peak demands of heavy digging and lifting applications. The new family of engines powering the X3 series is EPA certified to Interim Tier 4A standards utilizing cooled exhaust gas recirculation (CEGR) and diesel particulate filter technology (DPF). With "passive regeneration" to maintain cleanliness of the particulate filter, this emission reduction technology does not require daily maintenance like that of a Selective Catalytic Reduction (SCR) system. A new variable-geometry turbocharger provides high velocity air flow at lower rpm for clean, efficient combustion and power even when performing precision tasks at slower speeds.
Refinements to the X3 Series hydraulic system have resulted in gains up to 6% in lift capacity and up to 5% faster cycle times. Many of the innovative hydraulic features of generation's past have been carried through to the new X3, including the smooth functionality of the open-center design. A new feature, which automatically adjusts pilot pressure, provides additional regenerative properties for efficient flow while reducing system pressure loss and heat build-up.
Source: LBX Company, LLC