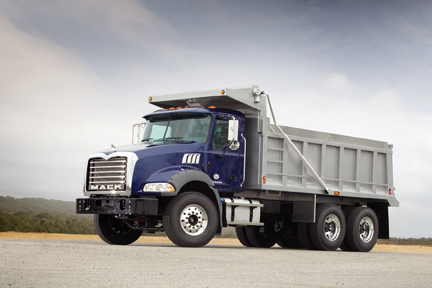 Enhancements to Mack's
Vocational Truck Lineup
With a focus on continuous improve- ment, Mack Trucks, Inc. introduced at CONEXPO-CON/AGG a series of enhance- ments to its industry-leading MACK® Granite® conventional straight trucks and the heavy-haul Titan by Mack model.
Mack debuted a medium heavy duty version of its Granite model. The Granite Medium Heavy Duty (MHD) is designed to meet the needs of customers, like some municipalities, who do not put their trucks through all the rigors Granite models can handle – customers for whom a lighter spec gets the job done.
"In the current economic environment, companies are taking an even harder look at how much truck they truly need," said Curtis Dorwart, Mack vocational products marketing manager. "Our new Granite Medium Heavy Duty delivers just the right amount of Mack's legendary strength, durability and reliability, along with valuable weight and cost savings."
The Granite MHD is available in bothaxle-forward and axle-back configura- tions, is powered by a Cummins ISL9 EPA 2010-certified engine and is offered with an Eaton manual or Allison automatic transmission.
"In recent years, the trucking industry has been hit hard by the worst recession since the Great Depression, but Mack never stopped investing and innovating – it's what our customers expect," said Kevin Flaherty, Mack senior vice president, .S. and Canada.
Was. Is. Always will be. That's Mack. A company founded in 1900, renowned for reliability and durability, and continuing to offer products with that legendary toughness – along with a strong dose of everything else customers today need to stay out in front of their competition.
Source: Mack Trucks, Inc.