Schwing Introduces New S 36 X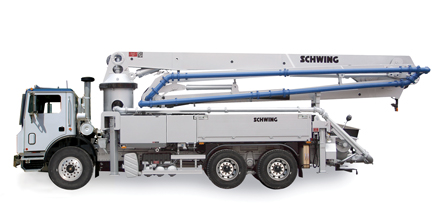 Schwing America announces the newest addition to its extensive line of truck mounted boom pumps, the S 36 X.
One of the most versatile models in company history, the S 36 X has been updated starting with the torsion subframe, X-style outriggers and Slewing Gear Bearing Turntable. Sharing a common subframe with the S 31 XT and the S 34 X boom pumps gives the Schwing Group global flexibility and Schwing owners common parts. The four section Roll and Fold™ boom reaches 115.5-feet vertically with 5-inch pipeline.
The standard pump kit on the new S 36 X is the fuel efficient 2025-5 120/80 MPS, providing 136 m3/h and 85 bar (1233 psi) at 23 strokes per minute. "The S 36 X pumps 13% more concrete with each stroke than competitive units" says Tom O'Malley, vice-president sales and marketing for Schwing America, "That translates to 13% less wear, smoother pumping and longer boom life."
Also standard on the S 36 X are Schwing's exclusive Vector™ controls, providing two way communication between pump and operator. Real time messaging makes trouble shooting fast and easy. Extensive operating data is displayed to help fleet managers and owners track maintenance and machine performance. Field proven frequency hopping radio ensures interference free, long range operation.
Complimenting Schwing's open loop hydraulics for worry free operation and continuous pumping, the S 36 X comes equipped with twin wall Super 3000 pipeline, carbide wear parts, night light kit, and the Big Rock for pumping the harshest mixes. Optional features include auto greasing systems, high pressure washer with wand, and water tank heater. Also available is Schwing's optional Green Shield Plus extended warranty with a total coverage of 36 months or 6,000 hours.
Source: Schwing America