ALL Purchases 50 Telehandlers for North American Fleet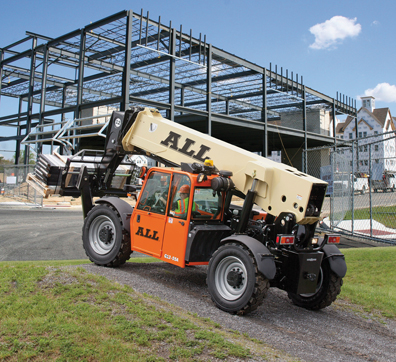 ALL Erection & Crane Rental Corp. has purchased a total of 50 JLG telehandlers to serve its continental fleet. The new units, which include more than 30 high-capacity telehandlers, will be delivered in groups of approximately 17 at a time every three months. The ALL Family of Companies has 34 branches spread strategically across its North American footprint, and the new telehandlers will be distributed among the branches to support immediate local needs, including daily rentals and major projects calling for longer-term rentals.
Each delivery group will include (10) JLG G10-55A telehandlers with 4,536 kg carrying capacity; (3) G12-55A telehandlers with 5,443 kg capacity; and (4) SkyTrak® telehandlers. SkyTrak models include (2) model 8042 telehandlers with 3,629 kg carrying capacity and 12.8 m maximum lift height and (2) model 10054 units with 4,536 kg carrying capacity and 16.2 m maximum lift height. Both the JLG G10-55A and the JLG G12-55A have a maximum lift height of up to 16.8 m.
All of these units reflect the huge changes in the telehandler industry in the past decade. Telehandlers are used in many construction markets to assist and feed loads to the large mobile cranes, offering particular utility in the wind energy market assembling turbines and in the petrochemical and shale gas exploration industries. Telehandlers are also common in steel construction, where they can unload steel and bring it to the large cranes, and in bridge construction, where they unload rebar, move barricades, and facilitate bridge painting. They can even help erect performance stages and feed equipment to large cranes in the entertainment industry.
Source: ALL Family of Companies