Eaton and Cummins Announce Powertrain Package
for North American Heavy Duty Truck Market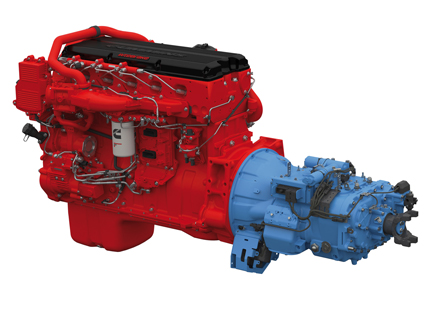 Eaton Corporation and Cummins Inc. recently unveiled a new powertrain package for the North American heavy-duty truck market that is expected to deliver 3-6% fuel economy improvements, lower preventative maintenance costs, and total lifecycle cost improvements. The new product integrates an Eaton Fuller Advantage Series automated transmission with new Cummins ISX15 SmartTorque2 ratings. The product will be available in the fall of 2013 for line-haul, regional-haul and less-than-truckload applications.
The Eaton Fuller Advantage Series automated transmission will be offered as a small ratio step Over-Drive model with new Cummins ISX15 SmartTorque2 ratings; the ISX15 415 ST2 with torque of 1,450/1,650 lb ft, and the ISX15 450 ST2 with torque of 1,550 /1,750 lb ft.
One of the main enhancements Eaton has made with its Fuller Advantage Series transmission is the elimination of the cooler, which helps to reduce the overall package weight and improve reliability. Combined with the use of aluminum for the rear transmission housing, range cylinder, shift bar housing and the shift tower – along with a thin wall, cast iron main case design – the new transmission weighs 34 kg less than Eaton's UltraShift PLUS LAS base model. A new precision lubrication system for precise and efficient transmission lubrication further enhances fuel economy by reducing churning losses.
The new engine and transmission combination has been designed specifically to work smarter to maximize fuel economy benefits. Cummins new ISX15 SmartTorque2 ratings are the next generation of today's SmartTorque ratings and precisely manage the power needed for the load demand. The Vehicle Acceleration Management is a patented Cummins electronic feature that manages vehicle acceleration for smoother shifting. This feature contributes to fuel economy benefits in stop and go duty cycles found in regional haul applications.
The powertrain package is currently undergoing field testing with various sized fleets, and initial testing and customer validation results are confirming the 3 to 6% fuel economy improvement.
Source: Eaton Corporation,
Cummins Inc.