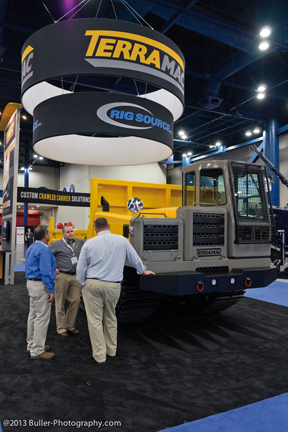 Rig Source Features New Terramac RT9
at UCT Expo
Rig Source, Inc. reported strong positive feedback from attendees of the 2013 Underground Construction Technology international conference and exhibition. The annual event, which unites utility owners, engineers, contractors, and manufacturers directly associated with development and rehabilitation of underground infrastructure, was held in January 2013, in Houston, Texas.
"UCT was a great opportunity to meet with people who are very familiar with crawler carriers. We were able to communicate our goal of supporting our customers' specific needs, as well as providing customization options they require," said Matt Slater, Rig Source director of sales.
"Visitors seemed to recognize right away that the Terramac RT9 unit is a quality product designed to allow easier maintenance and dependability in the field," he added.
Two of the features that drew the most questions were the rubber tracks and the engine. Having rubber tracks on such a rugged vehicle allows less damage to travel surfaces. New developments in materials and construction mean rubber tracks hold up well and are widely preferred over steel today for the RT9's range of applications.
The Terramac has an 8,200 kg carrying capacity and is equipped with a 230 hp Cummins diesel engine. It is available in both open cab and closed cab configurations and has rollover protective structure (ROPS) as well as falling object protective structure (FOPS) components. The RT9's easy front and rear bolt-on attachments can accommodate a variety of needs in the drilling and general construction industries.
Source: Rig Source, Inc.