ASTEC Builds 600th Warm Mix System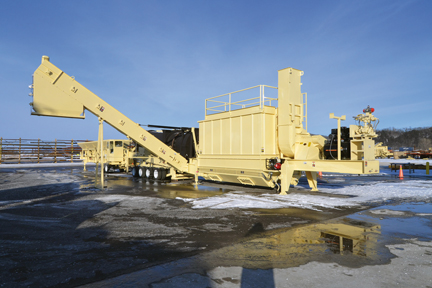 ASTEC, Inc., an Astec Industries company, reports that it has sold the 600th warm mix system since it began producing it in 2007. The 600th system will be installed at Delta Contracting in Humboldt, Tennessee.
The ASTEC warm mix system enables ASTEC's worldwide network of existing and new plant owners, who are all experiencing rising fuel and liquid asphalt prices, to lower their overall operating costs without sacrificing quality.
The ASTEC warm mix system allows producers to reduce fuel consumption, increase production, eliminate smoke and smell and use a higher percentage of recycle by producing mix at a lower temperature. The ASTEC warm mix system does not require the addition of expensive commercial additives. Instead, water is injected into the mix along with the liquid asphalt cement. The injection of water causes the liquid asphalt to foam and expand in volume, which helps the liquid asphalt coat the aggregate at a lower temperature.
When it was introduced in 2007 the ASTEC warm mix system was a major breakthrough in the warm mix asphalt technology arena that had been attempting to define a process that would provide both the desired "green" benefits of lowered emissions and lower overall production costs. Since that time, the ASTEC system has experienced phenomenal acceptance in the field.
The ASTEC warm mix system can be installed on either existing or new ASTEC drums. The ASTEC warm mix system can also be retrofitted to continuous mix and batch plants from any manufacturer.
Source: Astec, Inc.