Hatz Diesel at CONEXPO-CON/AGG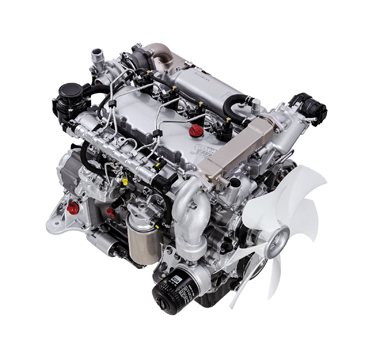 Motorenfabrik Hatz came up with a variety of new products at this year's CONEXPO-CON/AGG in Las Vegas. Most important the American introduction of the 4H50TIC, which is characterized by its compact design and the DOC-only emission concept. Developed with a consistent downsizing approach, the engine is especially tailored to customers in the U.S. and the EU.
Moreover, "Hatz Systems" division, which develops and sells entire systems based on the Hatz diesel engines, showcased a combination system, consisting of a climate compressor and alternator as well as the PM generator IPP (intelligent power pack).
Since January 2014 the engine line-up of the Motorenfabrik Hatz has been extended with a new member: the 4H50TIC (TIC: turbo intercooler). Like all Hatz engines this 2.0 l diesel engine also brings a number of technical innovations with it which make it the most compact in its class with the best power density compared to its competitors.
With 1952 cm3, the engine has a maximum power of 75 hp and a maximum torque of 177 lb ft (240 Nm), which is already available from as low as 1,600 rpm. Including starter and alternator, the engine weighs just 173 kg and thus saves 90 kg compared to its next competitor. Therefore the engine has by far the highest power to weight ratio in its power class.
Due to the new combustion process iHACS (intelligent Hatz Advanced Combustion Strategy) and an optimized combustion chamber geometry, combined with the sophisticated technology of the Bosch common rail system, which operates with injection pressures up to 1800 bars, the particulate emissions are considerably reduced. Therefore it is possible to conform to Tier 4 final emission standard without the use of a diesel particulate filter (DPF).
The engine also scores high marks with low cost of ownership with both a low fuel consumption and a long service interval of 500 h.
The 1D81C Aircon APU combines an air conditioning compressor with a generator and is driven by an air-cooled diesel engine. Application areas for the Aircon APU are primarily construction machines, which are driven by a large engine. On average, construction machines with large engines are working between 30 and 50% of the time in daily use and run on idle speed the rest of the time.
The Aircon APU supplies cooling air to the cab via the compressor and simultaneously charges the batteries of the machine. Depending on the requirements, the system can be operated with various Hatz engines. In addition to much lower fuel consumption, the Aircon APU gives security against upcoming non-idling laws in the U.S. that prevent the use of the main engine for air conditioning during idle time. Because of their compact size, the 1D81C Aircon APU can be easily integrated into existing applications.
Source: Motorenfabrik Hatz