Hewitt Rentals Now an Authorized Distributor for Flygt Pumps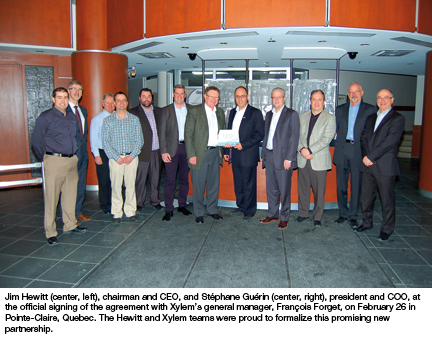 Hewitt Rentals Inc. announces that it has entered into a non-exclusive agreement with Xylem Canada for the distribution of Flygt submersible drainage pumps and sludge pumps in Quebec and the Maritimes. Thus, Hewitt Rentals Inc. adds these world-renowned products to the wide range of equipment it offers for rent and sale.
Flygt pumps meet pumping needs in mines, on construction sites, for public services and for the environment. Reliable and easy to install and maintain, these pumps offer a very favorable total cost of use.
"We are very pleased about this business agreement with Xylem, which will allow us to expand our offering of superior-class solutions to quickly and efficiently meet the needs of our customers in Eastern Canada", affirms Stéphane Guérin, president and COO.
Source: Hewitt Equipment Limited