Lift 100,000 Kilograms on Your Own with Holmatro Aluminium Cylinders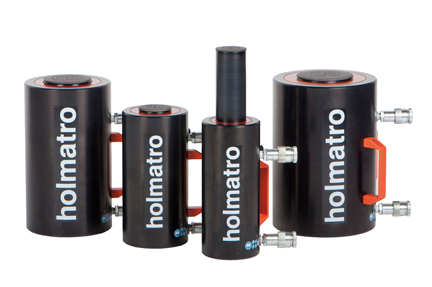 Steel cylinders guarantee quality, but are also heavy. Users do not always find them easy to control. This was one of the reasons why Holmatro has developed a good alternative – cylinders made of aluminium. They are more than 50% lighter, but just as strong as steel cylinders. They enable individuals to handle far higher tonnages. This makes work much more enjoyable, and is also positive in terms of health and safety. The new aluminium cylinders meet the stringent quality standards that characterize the hydraulics specialist.
Holmatro presents a complete range of lightweight spring return and double-acting aluminium cylinders produced from 7075-T6 black anodised aluminium. We offer a total of 36 models with different capacities and stroke lengths. The choice is yours.
All of their aluminium cylinders are fitted with the unique Duo Power Ring concept – a combination of a superior seal and an extremely strong composite bearing. This unique combination offers resistance to lateral loads to a maximum of 10% and ensures a longer life-span. The plunger of the cylinders is specially coated with a hardened anodized layer that makes it extremely wear and corrosion resistant. The XL Saddle optimally protects the plunger of the cylinder. This saddle also ensures that the load is guided as effectively as possible. This limits undesired eccentric loads.
The Holmatro R&D and production departments always have users as their highest priority, and the development of the aluminium cylinder is a good example of this. This cylinder range meets user's needs – to be able to lift higher tonnages without requiring more people.
The Holmatro Group is an international company with production facilities in the Netherlands and the US, and sales offices in the UK, China and Poland. Holmatro designs, develops, produces and supplies innovative and high quality hydraulic products and systems for industrial applications and technical rescue services.
Source: Holmatro