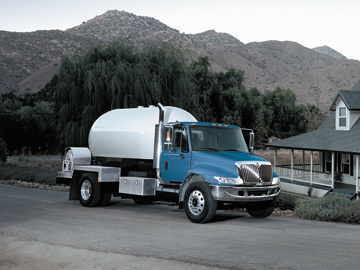 Expanded Transmission Offerings
for International DuraStar
Navistar, Inc. announced recently it is expanding its transmission offerings on the International® DuraStar® with the Cummins ISB 6.7 l engine. The company will now offer the Allison® 3000 Series transmission on its proven platform to deliver a combination of power, performance and reliability for a range of vocational applications including dump, utility and crane applications.
"We are excited to offer our vocational customers more choice by providing expanded transmission options for the DuraStar with ISB," said Bill Kozek, president, North America truck and parts, Navistar. "In addition to our transmission offerings, the DuraStar is available with the broadest array of engine offerings in the industry and backed by our extensive dealer network, providing superior after-sales support."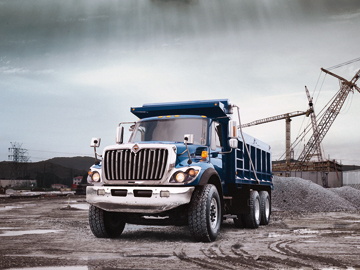 The DuraStar provides a swept back front windshield for improved visibility, a 50° wheel cut offering a tight turning radius and a roomy cab for driver comfort. The vehicle also comes standard with Diamond Logic® electronic control system, one of the most advanced electrical multiplexing architectures available in commercial trucks. Diamond Logic maximizes ease of body integration and helps deliver a number of smart, customizable features for added convenience and safety.
The company also announced it continues to invest in its severe service and medium-duty product lines by expanding vehicle enhancements and powertrain choices on International® brand vocational truck models. In addition, the company will add selective catalytic reduction (SCR) emissions technology to its high horsepower mid-range engines starting this summer.
The company's medium-duty SCR transition began in September 2013 with the International® DuraStar® and the Cummins ISB 6.7 l engine. MaxxForce® 9 and MaxxForce® 10 engines with SCR will be available exclusively on the International® DuraStar® and International® WorkStar® vehicles.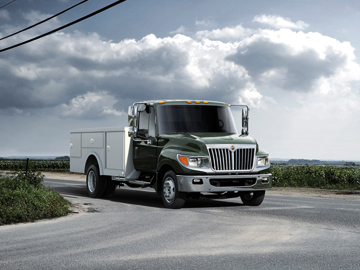 "Our medium-duty transition to SCR started strong with our DuraStar with Cummins ISB6.7 and we have high expectations for this chassis/engine combination as we see the construction market continue to rebound," said Mr. Kozek. "We also know a number of our customers require more horsepower and torque and we're pleased to offer these customers an expanded engine choice by adding SCR to our 9 l and 10 l engines."
The International® TerraStar® will also be offered with added enhancements. The Allison® Optimized 1000 Series transmission with an optional 6th speed is now available exclusively on the TerraStar. With the addition of the 6th speed, the close ratio, fully-automatic transmission offers improved fuel economy, lower engine noise and optimized performance. The TerraStar also features a refined front suspension with a redesigned front spring and bumper. The suspension offers a smoother ride especially when driving over rough terrain.