Potain Tower Cranes Get to Work at Landmark Stadium in France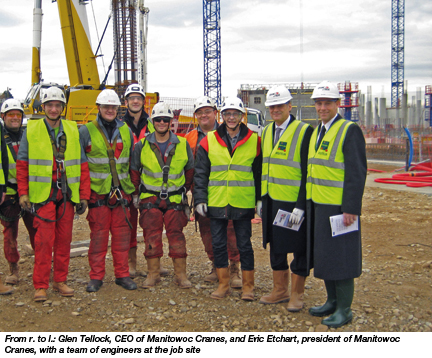 A team of ten Potain tower cranes is building an iconic €250 million ($387 millions) soccer stadium in Lyon, France. The 60,000-seat Stade des Lumières (Stadium of Light) will serve as the home stadium to Olympique Lyonnais, one of France's most successful soccer teams. It will host games during the UEFA Euro Championship in 2016, when the second largest soccer tournament in the world heads to France.
All ten Potain cranes were erected at the job site in just eight weeks, with the last crane arriving in December 2013. A small ceremony was held to mark the occasion, which Eric Etchart, president and general manager of Manitowoc Cranes, attended.
"We are very proud to have so many of Potain cranes working on such a major project," he said. "This stadium will be a national symbol for soccer in France, so the work must be completed to the highest standards and according to a tight schedule. We are confident that our cranes will help make this project a great success."
Manitowoc's EMEA headquarters is located near Lyon and many of its staff are fans of Olympique Lyonnais, making the project even more special and personal for the people that work there.
The Potain cranes are in near-constant use at the landmark project. Among their many tasks will be pouring some of the 120,000 m3 of concrete and lifting much of the 7,000 t of steel needed to build the stadium.
The project's main contractor, French construction giant Vinci, is renting the Potain cranes from local crane specialist Lyon Levage.
Lyon Levage worked closely with a team from Manitowoc Crane Care to erect all of the cranes in quick succession. The first crane arrived in October 2013 and will remain at the site until work is completed in 2015. Two Grove all-terrain cranes, a 300 t capacity GMK6300L and a 400 t GMK6400, were used to erect the Potain tower cranes.
Stade des Lumières covers a 56,000 m2 area – with the cranes reaching over the whole job site area. Their positioning allows for maximum coverage and efficiency.
Potain cranes at the job site include eight MD 485 B M20s and two MD 365 B L16s. They stand at varying heights between 55 m and 70 m. Each crane is rigged with its maximum jib length, which is 60 m for the MD 485 B and 65 m for the MD 365 B.
The Potain MD 485 B M20 is a 20 t capacity top-slewing tower crane, which offers an 80 m jib. The crane can lift up to 3.1 t at jib end. Potain's MD 365 B L16 is a 16 t capacity tower crane with a maximum jib length of 75 m, at which it can lift 3.2 t.
Stade des Lumières, which will also be known as Stade de Lyon, broke ground in February 2013 and approximately 1,000 people work on the job site.
The stadium is part of a €450 million ($700 millions) project covering 50 ha, which will includes a training center, hotels, office buildings, a leisure center and several additional soccer pitches outside of the stadium.
Established in 1965, Lyon Levage operates a fleet of 50 mobile cranes, with capacities from 40 t to 400 t.
Source: The Manitowoc Company, Inc.