Dressta To Launch New Customer-Focused Hydrostatic Compact Dozers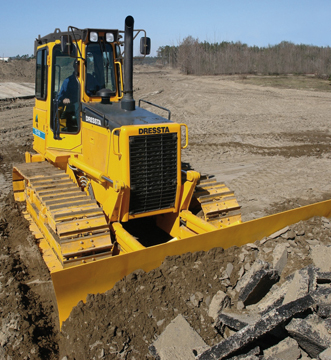 In response to customer demand, Dressta is delighted to unveil the new TD9 Hydrostatic Crawler Dozer. This new high-performance, compact crawler dozer has been developed by Dressta's team of expert engineers, and is the first of 3 new world-class models that range from 74 to 101 hp.
The new model has been validated by expert operators at a series of pre-launch performance trials at the Dressta proving grounds in Poland. The TD9, due to be launched in the third quarter of 2015, was presented to equipment owners and dozer operators from the key markets of North America and Canada. They put the Iron to the test in a series of challenging trials designed push the performance of the new hydrostatic dozers to the limit, and provided their feedback to help fine-tune the machine's performance.
The key components of the new models are from worldwide renowned suppliers such as Cummins, and Rexroth, while the structural design and DNA are a natural progression of Dressta's decades of experience in building crawler dozers and other construction equipment.
Dressta's variable bi-directional dual path hydrostatic drive is controlled by a programmable electronic control module. This provides the perfect match between load and ground speed, regardless of the ground condition or specific dozing application. The result ensures that operators have full command during the most challenging of tasks, such as when dozing with a full load or performing precise final grade operations.
Independent track control delivers the required speed changes to each side and allows for smooth, full-power turns. On-site maneuverability and job performance are further strengthened by the stable counter-rotation feature, whilst the low center of gravity delivers stable and safe operation when working on slopes or in rugged terrain.
This has been achieved through Dressta's willingness to proactively seek customer feedback and implement the responses directly into the design & validations process. The team of engineers features experts in a variety of applications, who have masterminded the perfect blend of intuitive functionality, extreme durability and ultimate operator comfort in a compact crawler dozer.
Source: LiuGong Dressta Machinery