Jenny Products Releases New "C" Series Line of Air Compressors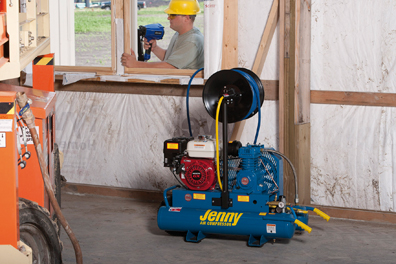 Jenny Products, Inc. introduces 4 models of wheeled-portable air compressors featuring new, single-stage "C" pumps and Honda GX commercial engines. The C-series compressors deliver 277.5 l/min at 8,6 bar (9.8 CFM at 125 psi), and are available with 30 l, 57 l, 64 l and 113.5 l air tanks, which are powder-coated and ASME certified.
For maximum durability, the newly engineered "C" pumps are constructed of cast iron and are splash lubricated with Jenny "Ultimate Blue" synthetic compressor-pump oil. The pumps are belt driven with large flywheels for easy start-ups and extra cooling, and directional air shrouds help further reduce pump temperatures. Special unloading valves are also included to assist in engine starting.
"We developed the 'C' pump to take full advantage of the Honda 6.5 hp engine," said Daniel Leiss, president of Jenny Products. "The new compressors fill the gap between our 5.5- and 9 hp models."
Other standard features include a totally enclosed heavy-duty belt guard, anti-vibration feet for smoother operation, a large canister intake filter with replaceable elements, manual tank drains, a stainless-steel-braided discharge hose, a pressure-release safety valve and tank, regulator and outlet pressure gauges. For superior mobility, the compressors have pneumatic tires and convenient lifting handles. Options include an oil-sight glass, lubricator and air line filter.
With roots dating back to the 1870s, Jenny Products, Inc. has been an OEM manufacturer for several major manufacturers of air compressors. Today, Jenny manufactures and markets its own line of hand-carry, wheeled-portable and industrial-stationary air compressors.
Source: Jenny Products, Inc.