A New Technology Against Potholes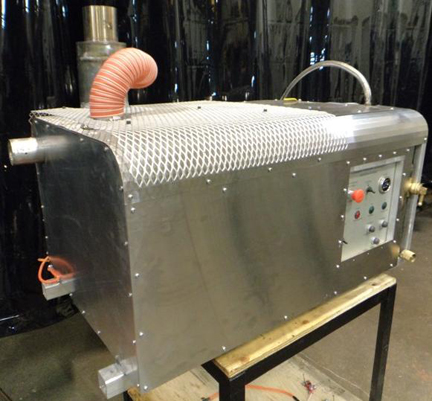 A Canadian company specializing in combustion technologies, Canadian Propulsion Technologies (CPT) inc., introduces its HVHG units, a line of high velocity heat generators that are capable of producing direct and indirect heated gases and fluids.
The HVHG technology follows years of research, consulting with municipalities and the private sector. This patent pending technology now offers a wide variety of solutions to the specific applications and needs that they have been looking for.
Producing a differential temperature of 150°C or more, and generating no external flame, the HVHG is a safe and simple system for heating, thawing and de-icing. Using clean hot air or the combustion product, this versatile unit can be used on any surface, in pipes and ducting and in confined spaces. The potential applications include deicing manholes, thawing frozen lines, railroad switch heating, deicing heavy equipment, and road maintainence.
The HVHG is the perfect system for the asphalt and paving industries. At only 70 kilograms, it can be transported easily in the back of a pickup truck for use in pothole repairs, with its available patcher arm. The HVHG heats, cleans and dries potholes, surface and cracks, allowing for superior durability of repairs, with no contaminants interfering with the bonding process.
The HVHG is also adaptable for installation on road repair trucks such as the Road Patcher or Patchright. CPT has recently reached an OEM agreement with Novilco inc., St-Felicien (QC), for the production of a portable bin unit for pothole and crack repairs.
Perfect for pre-paving preparation, the HVHG can also be used with an air knife for heating, cleaning and drying the surface ahead of paving machines.
Source: Canadian Propulsion Technologies (CPT)