Five-Tine Orange Peel Grapple Is a Scrap-Handling Workhorse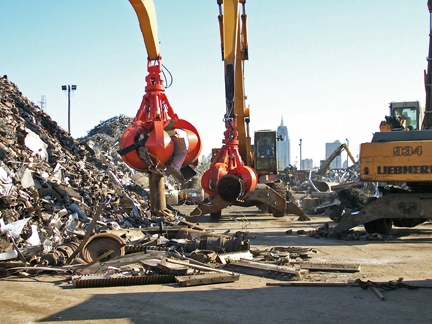 With a lifting capacity of 1.33 m3, Mack Manufacturing's OPSIHCR-175-5 orange peel grapple is ideally sized for daily use in a wide range of scrap metal and recycling applications.
Engineered for durable service, the grapple's tines are fabricated out of AR400 steel plate and all shafting is 4140 heat treated stress relieved. Oversized pins are provided for long life. All grease fittings are countersunk for protection and are easily accessible for servicing.
Like all grapples from Mack Manufacturing, the heavy-duty cylinders for this model are completely fabricated in Mack's own machine shop.
The OPSIHCR-175-5 grapple is available with or without rotation, with the crane block ready to connect to any excavator or purpose-built material handler. Choose from a selection of tine designs, all equipped with weld-on replaceable teeth.
This orange-peel grapple opens up to a 295 cm grab and typically weighs 2,450 kg.
Source: Mack Manufacturing