Double-Digit Growth at World of Concrete 2015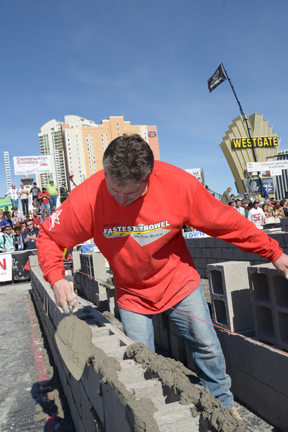 Celebrating 41 years of industry excellence, World of Concrete 2015 exceeded expectations across the board. The event drew 55,779 registered professionals, up from just over 48,000 in 2014, and featured more than 1,459 companies exhibiting across more than 62,700 m2 space, an increase of more than 9,000 m2 from 2014. This was the largest World of Concrete in 6 years. The energy and excitement from both attendees and exhibitors was palpable throughout the week at the Las Vegas Convention Center.
"With the industry ramping up again, education became a key asset at WOC this year. Attendees took more classes than they have in the last 6 years sharpening their skills for what's to come. In addition, international attendees made a big impact scouring the show for new equipment, tools, and technology to make their operations more efficient and profitable," said Jackie James, show director, World of Concrete.
Highlights of the 2015 edition included the opening ceremony awarding the World of Concrete Legacy Award to recipient Ed Sauter, Tilt-Up Concrete Association' executive director, and Concrete Foundations Association's executive director, along with the Weatherton Scholarship, providing funds to help the next generation of concrete professionals attending the CIM (Concrete Industry Management) Program. In addition, CIM held its annual unreserved silent and live auctions at World of Concrete. The silent and live auctions raised an initial tally of approximately $800,000.
For the 4th year, World of Concrete 2015 recognized the accomplishments of crews in the commercial construction / masonry industry with the Crews That Rock competition, sponsored by BASF. Crew members were honored for their teamwork and contributions to the industry and their communities. Projects were submitted in 1 of 2 categories, Community Service/Not-for-Profit and Commercial/For-Profit. With 25 total finalists, including 19 in the Commercial category and 6 in the Community Service category, the contest resulted in thousands of online votes and tremendous interest through social networks.
Langston Concrete Inc. received the award in the Commercial/For-Profit category for the Royal Gorge Bridge and Park and the International Union of Bricklayers and Allied Craftworkers' (BAC) La Grange Park's Veterans Memorial received the award for the Community Service/Not-For-Profit category. The Grand Prize winners were honored at WOC 2015 during the Crews That Rock reception. BASF and TV personalities Dean & Derek presented awards and swag bags for the winning crews.
The next edition of World of Concrete will be held February 1-5, 2016 (seminars February 2-5, 2016) in Las Vegas.
Source: Informa Exhibitions U.S.