ABB to Power Volvo Emissions-Free Electric Hybrid Buses


ABB's fast charging system will recharge electric buses across new emission-free zone of Namur, the capital of the Wallonia region in Belgium. ABB will deliver, in partnership with Volvo Buses, automated fast charging equipment for Namur's public transport system. This is ABB's second project with Volvo Buses.
Eleven new Volvo electric hybrid buses will run within a new zero-emissions zone in the city center. The new bus system is planned to be operational by the end of 2016. ABB's scope of contract also includes switchgear and a service contract.
Instead of returning the buses to a depot to connect to an individual charger, the buses will be recharged within a few minutes when stopped at the end station. This set-up allows the buses to have a smaller, lighter battery pack which increases passenger capacity. An additional benefit is that the buses are able to run more routes.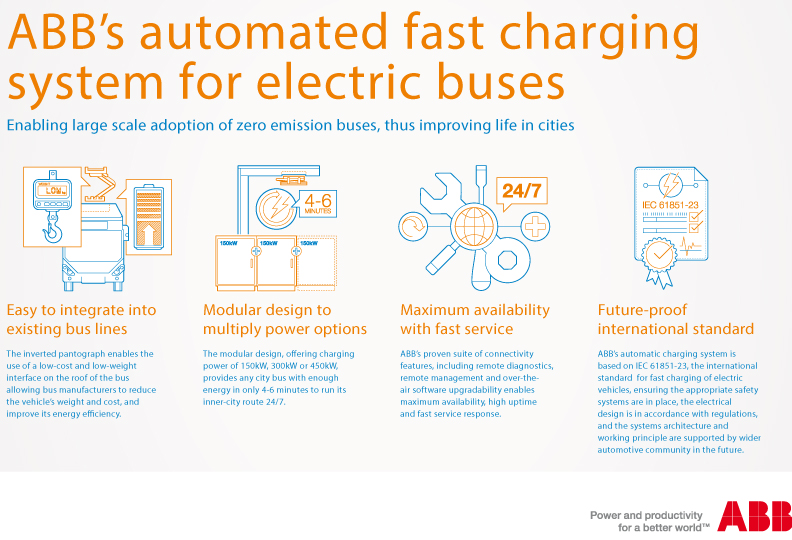 "Cities around the world are increasing their urban e-mobility investments to reduce congestion and improve air quality," said Pekka Tiitinen, president of ABB's Discrete Automation and Motion division. "Combining our e-mobility technology portfolio with partners like Volvo is a key element of our Next Level strategy and improves the commuting of bus clients and lowers cost for municipal transport companies."
ABB's fast charger connectivity includes remote diagnostics and management, and over-the-air software upgrades ensure fast response and availability. With over 3,000 web-connected fast chargers installed around the world, ABB's connectivity solutions have produced industry leading uptimes.
Source: ABB