2017 Chevrolet Colorado ZR2 Premieres in Calgary
Chevrolet introduced the Colorado ZR2 at the Calgary International Auto and Truck Show. After revitalizing an entire truck market segment with the launch of the Chevy Colorado, Chevrolet continues to innovate in the midsize pickup segment. The high-performance, off-road ZR2 trim level will launch this spring for the 2017 model year with a starting price of $44,215 plus a $1,700 destination freight charge.
"ZR2 is truly a segment of one and does everything well. We're thrilled to be able to offer it for more than $6,000 less than the next closest comparable truck," said Doug Kenzie, brand manager, Chevrolet Trucks in Canada. "When purchasing a ZR2 at the starting price, our customers are getting all of the incredible off-road technologies that allow them to traverse everything from heavy two-track rails to high-speed desert running and full-on rock crawling."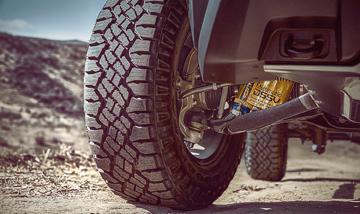 Standard powertrain is the 3.6 l V6 engine shared with other Colorado models. The 2.8 l Duramax engine is available as an option.
The ZR2 is offered in either crew cab or extended cab configurations (including short and long beds, respectively).
Front and rear electronic locking differentials and Multimatic Dynamic Suspensions Spool Valve (DSSVTM) dampers are interesting features included in the ZR2 package, as well as modified front and rear bumpers for better off-road obstacle clearance and ZR2 17x8" aluminum alloy wheels and 31" Goodyear Wrangler Duratrac® off-road tires.
Source: General Motors Canada