Goodyear Helps Elevate Construction Productivity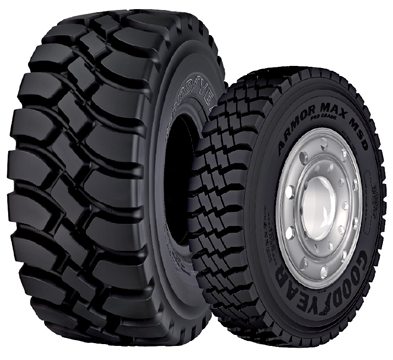 The Goodyear Tire & Rubber Company demonstrated its commitment to helping construction operations elevate their productivity while lowering their operating costs during CONEXPO-CON/AGG, last March.
Goodyear displayed a number of trusted products at its booth, including:
The Goodyear TL-4A, which features an optimized tread pattern for versatility and traction in severe conditions.
The Goodyear GP-4D, a high-traction, deep-tread tire for articulated dump trucks that features a non-directional tread design for enhanced traction; centerline riding lugs for long wear and a smooth ride; and more.
The Goodyear Armor Max Pro Grade MSD, which targets construction trucks and features a rugged tread design for enhanced on- and off-road traction; a cool-running base compound; and more. The tire is available with Goodyear's DuraSeal Technology, which helps seal nail-hole punctures up to 6 mm in diameter in the tire's repairable tread area.
During CONEXPO, Goodyear discussed the comprehensive support that it provides to construction companies, including an international distribution network, an integrated supply chain, and field sales and consultation teams.
Reliable services are another pillar of Goodyear's productivity-enhancing, cost-reducing approach. These services include expert on-site support in the form of consultations, site audits, tire surveys and more – all designed to help construction companies optimize the performance of their tires.
In addition, Goodyear highlighted its extensive range of management tools, including EMTrack, an exclusive performance monitoring system that provides custom reports based on tire tread depth, tire inflation and other important measurements.
Goodyear also demonstrated its Tire Trac online commercial truck tire management tool, which helps construction operations monitor commercial truck tire installations, the performance of these tires in the field and other key metrics. Tire Trac also can help end users identify truck tire maintenance opportunities.
And CONEXPO-CON/AGG attendees had an opportunity to look at Goodyear's Truck App, which contains comprehensive information about all of the Goodyear commercial truck tires and retreads that are available for construction applications.