CASE Announces Enhancements to N Series Backhoe Loader Line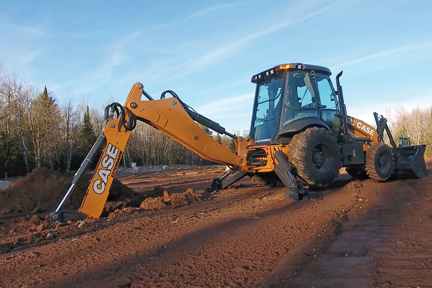 CASE Construction Equipment has introduced several machine enhancements to its N Series backhoe loaders incorporated throughout the machine – from cab and drivetrain improvements to enhancements to the hydraulic and electrical systems. CASE has also made standard several options that were previously optional, and now offers an increased suite of factory options on all N Series backhoe loaders.
CASE N Series backhoe loaders now feature an all-new Pilot Control hydraulic system for optimal precision and smoothness, offering the operator more control in critical applications. Improvements have also been made to the hydraulic system in order to reduce cab noise for greater operator comfort.
The fuel economy package, which was previously optional, is now standard. This includes ECO mode switches for both the loader and backhoe functions, which allows for greater fuel savings, and optimal power and performance. The package also includes the Auto Engine Idle feature, which brings engine RPMs down to idle when the backhoe controls are not used for a set period of time. The engine will also shutdown if the machine idles for a set period of time. Both Auto Engine Idle and Auto Engine Shutdown have adjustable settings to customize the timing to the operators' style and preference. Another great feature now made standard is the Engine Protection Shutdown mode, which turns the engine off if engine temperature, drivetrain fluid temperature or engine oil pressure go out of normal operating range.
Several additional enhancements have been made throughout the product line, including: a battery disconnect switch and jumpstart terminal – now standard, updated drivetrain for improved roading and gradeability, and externally adjustable Extendahoe wear pads.
In addition to the machine enhancements and new standard features, many brand-new factory options are now available on all N Series backhoes: a new LED light option includes 4 front, 4 rear and 2 sidelights that are all adjustable to target the task at hand, a bolt-on chaff screen attaches over the standard front grill, protecting the engine compartment and cooling package, an 18-inch front tire offering (bias ply or radial) and heavy-duty front axle option are available on the 580 N and 580 Super N models, as well as new bolt-on front fenders.
Source: CASE Construction Equipment