FPT Industrial Powers Fabio Buzzi in the Diesel Powerboat
Guinness World Speed Record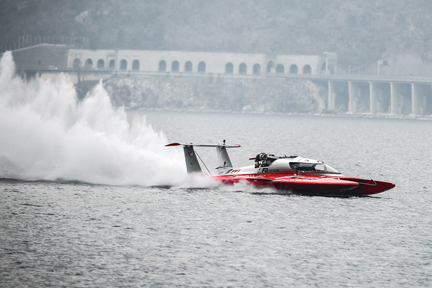 FPT Industrial is now part of speed record history. Fabio Buzzi, multiple world-champion of Powerboat Racing and CEO of FB Design, has achieved the fastest speed on water using a diesel engine developed by FPT Industrial, and a hull engineered by FB Design. The record, certified by Guinness World Records, was achieved on March 7, 2018, on Lake Como, Italy as the 3-point hull reached the incredible speed of 277.5 km/h.
FPT Industrial and FB Design worked together to develop a new engine: turning FPT Industrial's Cursor 16 l engine used in agriculture applications into a marine engine capable of developing more than 1,700 hp. This collaboration has resulted in new marine concepts, such as the aluminum extruded exhaust manifold on the last generation electronic common rail base engine. New innovative technologies for the turbocharging system have been tested to introduce multiple electronic variable geometry turbo solutions. Furthermore, the racing engine's cooling system features a single-direct circuit, with a water intake step-change solution inside the boat's rudder.
FPT Industrial's R&D Center in Arbon, Switzerland, played an important part in this success. The engine was optimized and tested there, and modifications made to the fuel injection system drawing on expertise gained during other racing projects, such as the "Dakar" and the "Africa Eco Race" rallies. Arbon's history is full of technological innovations and ground breaking firsts dating back to 1928 with the development of the first diesel truck engine and the patent for the direct injection diesel engines in 1934. In 1980, The R&D center collaborated on the development of the Common Rail injection system, and later designed the first small, high speed direct injection diesel engine with a turbocharger. At the end of the 1990s, it saw the first application of a variable geometry turbocharger on a diesel engine, as well as the first common rail injection system on a light commercial vehicle, which was later adopted for agricultural applications. Finally, in 2011, the R&D Center in Arbon developed FPT Industrial's patented HI-eSCR (High Efficiency Selective Catalytic Reduction).
FPT Industrial's mission has always been to promote innovation in the field of racing in the pursuit of solutions and results that can be subsequently applied to mass production. The winning 3-point hull was driven by Fabio Buzzi himself, who succeeded in breaking yet another record, beating his previous one set in 1992. This was achieved through the efforts and passion of these 2 brands, which are celebrating over 35 years of successful partnership.
Together, FB Design and FPT Industrial have won 15 world titles, achieved more than 100 victories in both Italian and International waters and broken several records, culminating now in this latest Guiness World Record.
The new record was certified by the Guinness World Records, the English institution which validates new records using sophisticated measuring systems which guarantee accuracy to the thousandth of a second. The measurements are made electronically and the physical presence of an Official Certifier, sent by the Guinness World Records, ensures that all the guidelines have been followed before the record is approved.
Source: FPT Industrial