The All-Rounder in Daily Business
Whether it concerns landscaping, construction & demolition, public works or any roads and paths maintenance operations, a skid steer loader cleans, sweeps and demolishes!
Nowadays work has to be carried out as efficiently as possible, regardless of the sector, and deadlines are widely represented. The increasing labor shortage in many industries is intensifying this pressure. At the same time, everyone has an obligation to ensure that people have a safe and comfortable workplace.
By applying new innovations and the availability of a large number of attachments, the new GIANT skid steer loaders present themselves as multifunctional all-rounders that help making work easier and more efficient.
The frame is largely the same and the lineup of engines is unchanged as well. Most of the innovations have been applied to the enclosed mechanics of the machine such as a new valve block providing extra user-friendliness and the ability to perform tasks precisely. Furthermore, the skid steer loaders are equipped with a larger hydraulic pump for more power and higher yield.
Larger wheel motors provide more push and pull, better driving characteristics and are also low maintenance. In addition, it is now also possible to easily change tires. Depending on the work, a large number of different tires can be selected. These can even be changed on location and give the machine a width between 76 cm and 110 cm.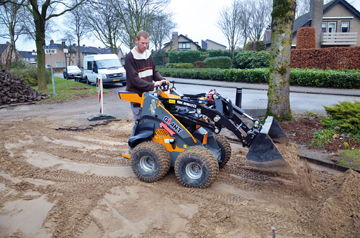 The new operator platform is suspended and easy to fold. This gives the driver more comfort and ensures that the machines are compact to transport. Optionally, the skid steer loaders can be equipped with a soft brake. With this system, the machine slows gradually after releasing the command levers.
In addition to this braking system, various options are available that contribute to the efficient and safe execution of work. For example, an available hydraulic quick change makes changing tools easy and quick without having to move away from the machine. For working with hydraulically driven tools (rotary mower, sweeper, hydraulic hammer, etc.) the machines can be equipped with a double gear pump and multiple double-acting functions.
For work inside buildings, the 2 diesel variants can be equipped with an integrated diesel particulate filter that reduces emissions by more than 90%. In addition, the machines can be equipped with a cyclone filter to prolong the life of the air filter.
These compact powerhouses are not just about lifting sand, concrete or bags of cement on a construction site. The skid steer loaders do their job in all sectors! For gardeners by transporting soil, plants or tiles. At recycling companies, keeping the floors under conveyor belts clean. They can reach locations where other machines will not fit.
For municipalities, the machine is a valuable tool for maintaining narrow paths and surfaces. With tools such as a weed brush, sweeper or snow blade, the skid steer loaders can replace a number of other machines. The smallest GIANT has also proven its worth in construction and demolition. Because of their low weight and compact size, it is possible to use them inside buildings.
Source: TOBROCO-GIANT