BrandSafway on Gordie Howe International Bridge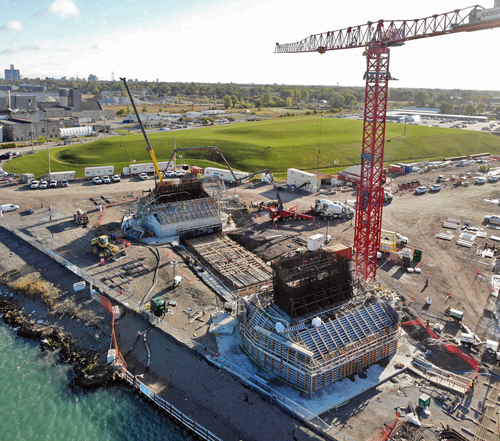 Several BrandSafway companies are working together to deliver comprehensive access, scaffolding and forming solutions for the construction of the Gordie Howe International Bridge between Windsor, Ontario, and Detroit, Michigan. Once construction is finished, the 6-lane cable-stayed bridge will have a clear span of 853 m – the longest of any cable-stayed bridge in North America.
Aluma Systems by BrandSafway is providing formwork, falsework, stair towers and access platforms to support the concrete pours for the main pylon footings. This includes custom preassembled formwork panels for the footings, caisson collars, crane foundations, the pylon starters, and a base platform for access, storage and the temporary elevators surrounding each pylon.
AlumaSafway is providing access stairs as well as an elevator on the Canada bridge site. BrandSafway is supplying the elevator on the U.S. site. The 2 elevators will provide access for on-site personnel along the height of the main pylons and to the jump form systems during construction.
Windsor-Detroit Bridge Authority (WDBA), a Canadian Crown corporation, is responsible for the delivery of the Gordie Howe International Bridge, through a public-private partnership. Its private-sector partner, Bridging North America, began working on the project in 2018. Once completed, the new bridge will be among the top 5 longest bridges in North America at a total length of 2.5 km. In addition to providing much needed cross-border capacity for commercial and personal vehicles at the busiest trade corridor between Canada and the U.S., the bridge will include a dedicated multi-use path for pedestrians and cyclists.
With a commitment to safety as its foremost value, BrandSafway provides the broadest range of solutions with the greatest depth of expertise to the industrial, commercial and infrastructure markets.
Source: BrandSafway